in Defence
Galvion makes first shipment of Caiman Ballistic Helmets to NATO through NSPA
Galvion has received major orders for its Batlskin Caiman head system from Norway, Finland and Sweden through the NATO Support and Procurement Agency (NSPA) contract and the first delivery has now shipped to Norway.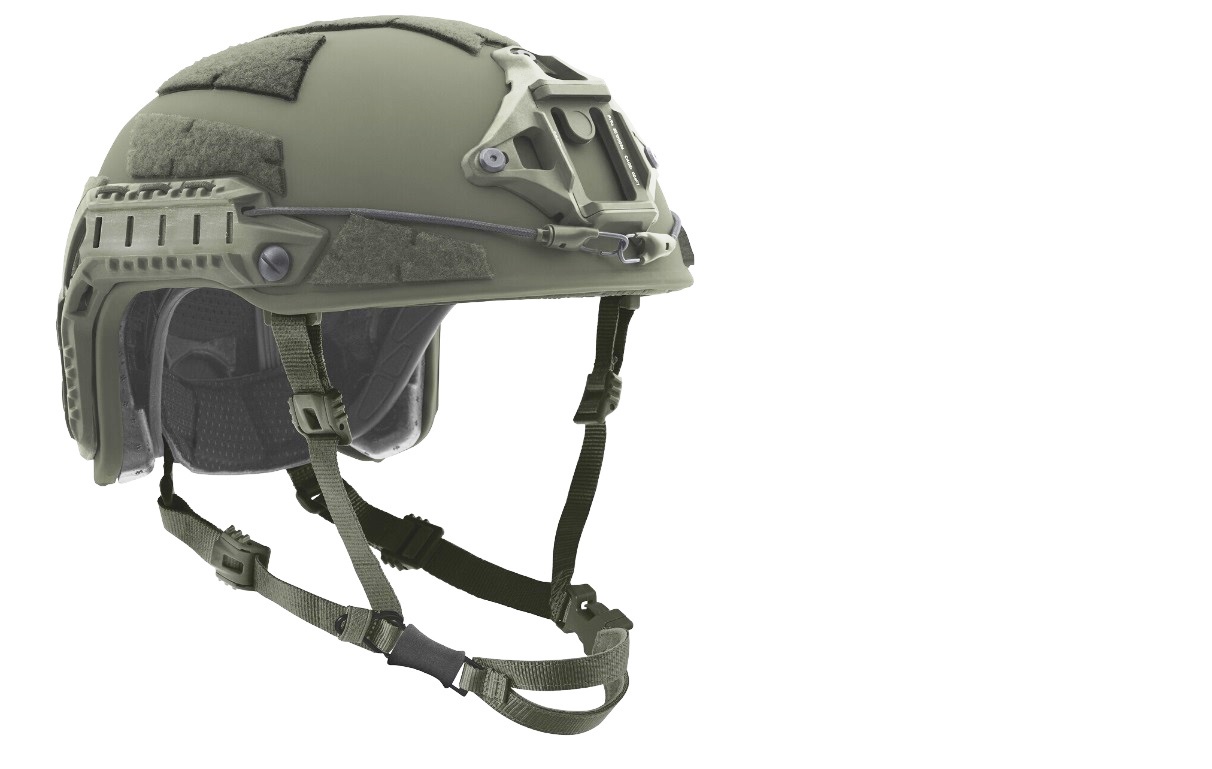 Above: Galvion's flagship Batlskin Caiman ballistic helmet system – NSPA configuration-green.
Courtesy Galvion

In December 2022, Galvion was awarded a framework contract that facilitates the procurement of their high performance Batlskin Caiman head system and accessories, typically used by Special Operations Forces (SOF) and dismounted light forces, for NATO countries and partners. This announcement marks the placement of multiple orders off the framework contract and the commencement of deliveries that are expected to total over 80,000 helmet systems.

The NSPA contract was awarded following extensive user trials conducted by Norway, acting as the lead user nation, under the supervision of the NSPA. Selected to meet the higher performance bracket of four specified helmet categories, Galvion's Caiman helmet system comes in five sizes and is equipped with Galvion's very latest APEX lining system, an intuitively adjustable design that enables a customised fit for users and is designed to offer unparalleled stability for the latest visual augmentation devices.

The Caiman helmet is scalable for highly dynamic operations with mission-specific accessories and is expressly designed to incorporate electronics, communications headsets and other critical equipment, now and in the future.

Ms Celine Danielli, NSPA Programme Manager, stated: "NSPA was able to provide Nations with the consolidation of requirements for a highly technical soldier equipment. This contract is the perfect example of NSPA's added value to Nations and Industry: through the use of the NATO Logistics Stock Exchange, the Agency combined technical requirements and technology, enabling Nations to buy the necessary equipment on a web-platform."

Svend Svendsen, project representative of the Norwegian Defence Materiel Agency (NDMA) said: "Norway conducted rigorous trials over an extended period and through multiple mission sets. The Caiman helmet was selected as the variant normally used by Special Forces and advanced conventional forces as it is focused on survivability and lethality and supports the integration of visual augmentation devices and communications."

Todd Stirtzinger, CEO at Galvion said: "The NSPA framework contract offers NATO countries a simplified procurement route for our flagship Caiman head system, along with a growing list of integrated accessories. We are working both internally and in conjunction with best-in-breed partners to develop and integrate capability enhancements, from scalable power to communications to strobes and visual displays, that will ensure the Caiman platform continues to evolve to meet ever-growing mission needs, all available through the NSPA procurement route.

"It's a major milestone for our entire team to see this first shipment go to Norway, a valued partner, and the technical authority on the program. We are delivering these first 80,000 systems across Norway, Sweden and Finland over the next 18 months and expect demand to increase as they equip more of their conventional forces with the Caiman system and its expanding suite of accessories. We continue to work closely with these countries to ensure that we have voice-of-customer feedback informing our development and integration paths, as well as the appropriate training, maintenance, and support plans for the future."

Galvion designs, develops and delivers mission critical head, face and torso protective solutions, as well as intelligent power and data management systems, for military and tactical teams. Founded in 2002 as Revision Military, Galvion is privately owned with ISO 9001:2015 certified facilities in Vermont, Massachusetts and New Hampshire in the US, Montreal in Canada and Bristol in the UK and has a team of 400+ employees.