in Aerospace
IATA reports passenger demand recovery halted in November
The International Air Transport Association (IATA) announced that the recovery in passenger demand which had been slowing since the Northern hemisphere's summer travel season, came to a halt in November 2020.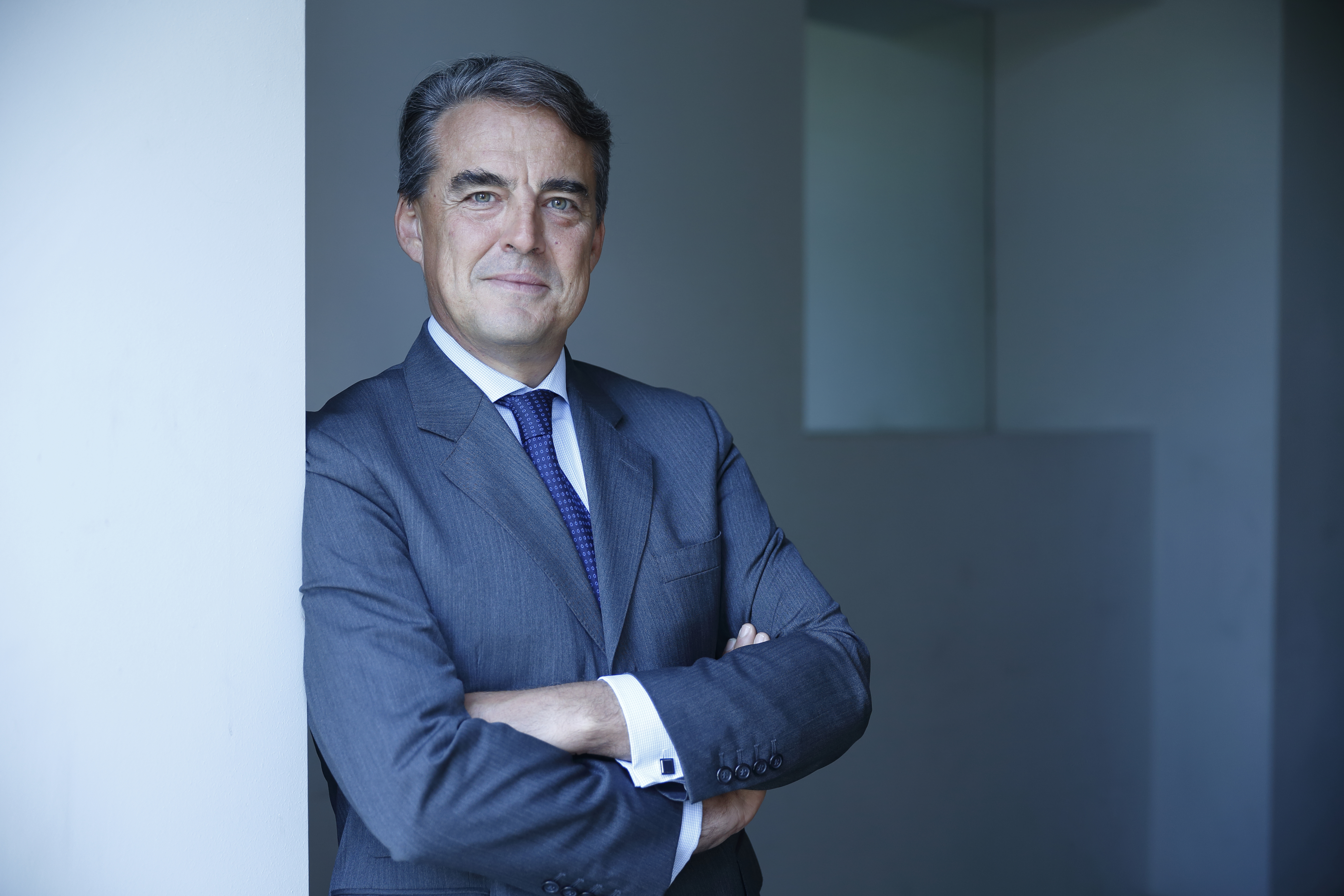 Image courtesy IATA

Total demand (measured in revenue passenger kilometres or RPKs) was down 70.3% compared to November 2019, virtually unchanged from the 70.6% year-to-year decline recorded in October. November capacity was 58.6% below previous year levels and load factor fell 23.0 percentage points to 58.0%, which was a record low for the month.

International passenger demand in November was 88.3% below November 2019, slightly worse than the 87.6% year-to-year decline recorded in October. Capacity fell 77.4% below previous year levels, and load factor dropped 38.7 percentage points to 41.5%. Europe was the main driver of the weakness as new lockdowns weighed on travel demand.

Recovery in domestic demand, which had been the relative bright spot, also stalled, with November domestic traffic down 41.0% compared to the prior year (it stood at 41.1% below the previous year's level in October). Capacity was 27.1% down on 2019 levels and the load factor dropped 15.7 percentage points to 66.6%.

"The already tepid recovery in air travel demand came to a full stop in November. That's because governments responded to new outbreaks with even more severe travel restrictions and quarantine measures. This is clearly inefficient. Such measures increase hardship for millions. Vaccines offer the long-term solution. In the meantime, testing is the best way that we see to stop the spread of the virus and start the economic recovery. How much more anguish do people need to go through—job losses, mental stress—before governments will understand that?" said Alexandre de Juniac (above), IATA's Director General and CEO.

International Passenger Markets
Asia-Pacific airlines' November traffic plunged 95.0% compared to the year-ago period, which was barely changed from the 95.3% decline in October. The region continued to suffer from the steepest traffic declines for a fifth consecutive month. Capacity dropped 87.4% and load factor sank 48.4 percentage points to 31.6%, the lowest among regions.

European carriers saw an 87.0% decline in traffic in November versus a year ago, worsened from an 83% decline in October. Capacity withered 76.5% and load factor fell by 37.4 percentage points to 46.6%.

Middle Eastern airlines' demand plummeted 86.0% in November year-to-year, which was improved from an 86.9% demand drop in October. Capacity fell 71.0%, and load factor declined 37.9 percentage points to 35.3%.

North American carriers had an 83.0% traffic drop in November, versus an 87.8% decline in October. Capacity dived 66.1%, and load factor dropped 40.5 percentage points to 40.8%.

Latin American airlines experienced a 78.6% demand drop in November, compared to the same month last year, improved from an 86.1% decline in October year-to-year. This was the strongest improvement of any region. Routes to/from Central America were the most resilient as governments reduced travel restrictions—especially quarantine requirements. November capacity was 72.0% down and load factor dropped 19.5 percentage points to 62.7%, highest by far among the regions, for a second consecutive month.

African airlines' traffic sank 76.7% in November, little changed from a 77.2% drop in October, but the best performance among the regions. Capacity contracted 63.7%, and load factor fell 25.2 percentage points to 45.2%.

Domestic Passenger Markets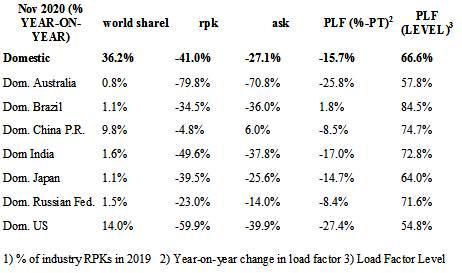 Australia's domestic traffic was down 79.8% in November compared to November a year ago, improved from an 84.4% decline in October, as certain states opened up. But it continued to significantly lag other domestic markets.

India's domestic traffic fell 49.6% in November, an improvement over a 55.6% decline in October, with more improvement expected as more businesses reopen.

Air Cargo
IATA data for global air freight markets in November showed that freight volumes improved compared to October but remained depressed compared to 2019. Capacity remained constrained from the loss of available belly cargo space as passenger aircraft remain parked.
Global demand, measured in cargo tonne-kilometres (CTKs*), was 6.6% below previous-year levels in November (-7.7% for international operations). This was on par with the 6.2 % year-on-year drop in October. The year-on-year decline is skewed as November 2019 had a boost in demand from the waning US-China trade war.
Seasonally adjusted demand (SA CTKs) continued to improve, increasing 1.6% month-on-month in November. This was a slight improvement over the monthly growth rate of 1.1% in October. Current month-on-month gains indicate that SA CTKs will return to 2019 levels around March or April 2021.
Global capacity, measured in available cargo tonne-kilometers (ACTKs), shrank by 20% in November (‑21.3% for international operations) compared to the previous year. That is nearly three times larger than the contraction in demand. The capacity crunch is caused by a 53% decrease in in belly capacity. This has only been partially offset by a 20% increase in freighter capacity.
Strong regional variations continue with North American carriers reporting year-on-year gains in demand (+5%), while all other regions remained in negative territory compared to a year earlier.
Economic conditions in November, normally the peak season for air cargo, remained positive:
The new export orders component of the manufacturing Purchasing Managers' Index (PMI) remained in growth territory in both developed and emerging markets for the third month in a row after two years of indicating negative growth.
Retail sales for November were up by around 5% over 2019 for both China and the US, propelled by events like Black Friday and Singles Day.
"Air cargo demand is still down 6.6% compared to the previous year, however we are seeing continuing month-on-month improvements. Severe capacity constraints persist as large parts of the passenger fleet remain grounded. This will put pressure on the industry as it gears up to deliver vital COVID-19 vaccines," said Alexandre de Juniac, IATA's Director General and CEO.