in Aerospace / Defence / Security / Space
M5 proposes new growth manifesto for UK advanced manufacturing
UK advanced manufacturing can support sustainable regional and national economic growth but this requires long-term political vision and commitment, according to the leaders of the UK's five most successful manufacturing sectors, the Manufacturing Five (M5).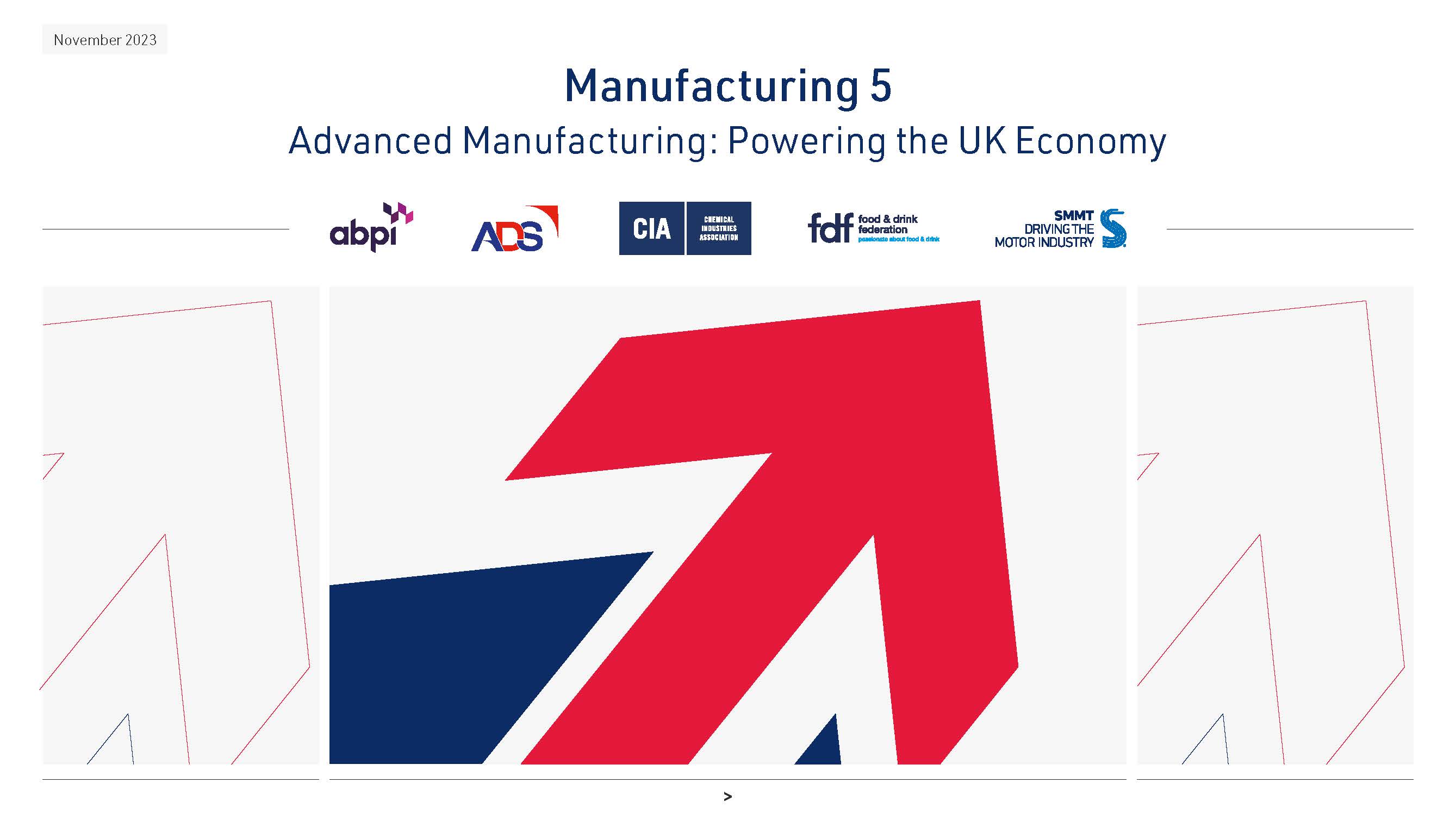 Above: To download the report Advanced Manufacturing: Powering the UK Economy, click here .
Courtesy M5

With a general election coming up, a coalition of the UK's leading advanced manufacturing sectors, the Manufacturing Five (M5), is calling on all political parties to unite around a long-term vision for UK manufacturing.

With a combined turnover of £309 billion, the M5 has come together to propose an essential new 'manifesto for growth,' which sets out the critical actions needed to drive the competitiveness and growth of innovative manufacturing.

The five-point 'manifesto for growth ' sets out the reforms necessary for the UK to close the gap with global competitors and unlock the potential for manufacturing to drive prosperity and pride across the UK.

The plan focuses on building the workforce of tomorrow, regulating for growth, supporting innovation, leadership in sustainability, and securing Britain's place as a leading trading nation.

The report underscores the critical importance of advanced manufacturing in shaping the UK's future. It stresses the need for a coherent, long-term strategy to ensure their continued success.

Vital for the UK economy, the M5 sectors span life sciences, chemicals, food and drink, automotive, aerospace, defence, security and space and employ nearly one million people in roles that are 46% more productive than the national average. Moreover, these sectors are responsible for over £2 out of every £5 invested in research and development (R&D) by UK businesses.

Despite these strengths, the sectors have faced disruptions and changes in operating environments, resulting in significant challenges to overcome, in addition to a new era of global competition driven by targeted national industrial strategies.

To meet these challenges head-on, any future government must play a central role by creating the conditions for UK manufacturing to thrive and innovate. This approach is essential in generating new job opportunities, supporting British innovation, and encouraging investment across all nations and regions of the UK.

The report outlines five pillars to drive sustained growth:
Building the workforce of tomorrow - developing a skilled and adaptable workforce ready to meet the challenges of tomorrow.
Regulation for growth - implementing policies and regulations that foster innovation and growth within the manufacturing sectors.
Delivering an innovation nation - prioritising innovation as an essential element for manufacturing growth.
Harnessing Britain's place in the world - capitalising on the UK's global presence to promote its manufacturing industries.
Delivering a sustainable future - working in partnership with businesses to support the transition to more sustainable manufacturing approaches.
Kevin Craven, Chief Executive of ADS, said: "The UK's aerospace, defence, security and space sectors are an engine of economic growth and a hub of technological breakthroughs and innovation. The rapidly evolving geopolitical landscape, the pressing need to meet the UK's Net Zero commitments and increasing international competition have brought our sectors to a crucial turning point.

"On behalf of our 1300 members, we're proud to support our pioneering industries as they cement the UK's position as a global manufacturing powerhouse."