in Defence / Events
MKU to unveil Kavro Soldier Protection innovation at Milipol Paris
MKU is set to unveil what it calls a groundbreaking innovation under their acclaimed Kavro Soldier Protection line, on the company's 10th participation anniversary at Milipol Paris next month (14th-17th November), promising a product that will redefine the benchmark for 'uncompromised protection'.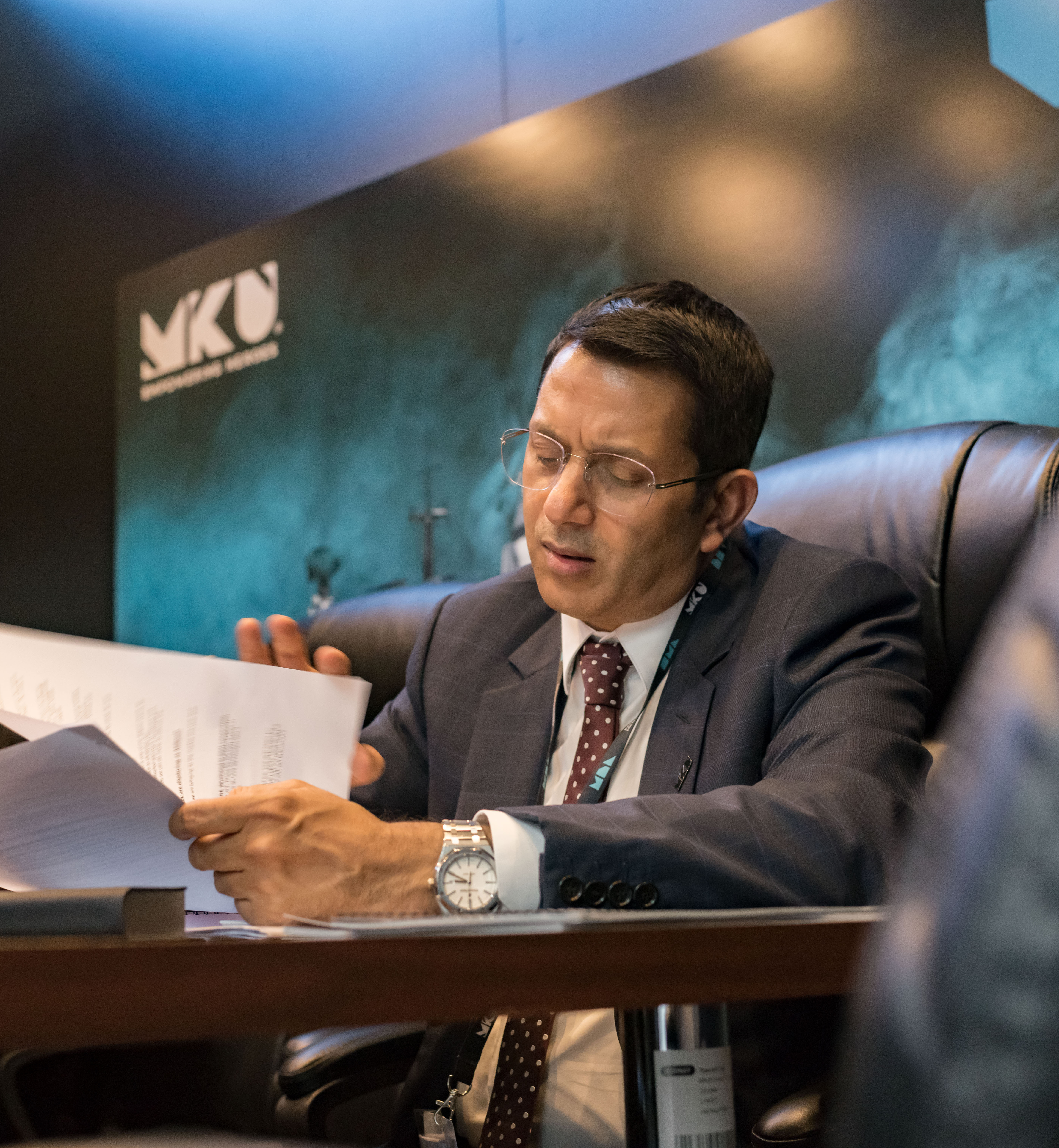 Above: Neeraj Gupta, Managing Director, MKU.
Courtesy MKU

In the rapidly evolving landscape of global security threats, the nature of modern warfare has shifted dramatically. Unconventional tactics, rising terrorism and advancements in enemy arsenals pose unprecedented challenges to those tasked with safeguarding our communities. The necessity for uncompromised ballistic protection has never been more pronounced. Thoughtful innovation in defence can be the critical game changer.

More a decade ago, MKU Limited, a premier global defence manufacturing company, revolutionized the industry with the launch of 'Instavest'. This product showcased their patented 'quick release' technology, fundamentally altering the safety standards for soldiers worldwide forever. Fast forward to 2023, MKU is on the brink of revealing another groundbreaking innovation on its 10th participation anniversary at Milipol, promising a product that will redefine the benchmark for "uncompromised protection". This announcement is a significant milestone for the defence sector, pointing towards a new era of safety and resilience.

A source from within the company has revealed: "This is something the world has been eagerly anticipating. Previously, the technologies and materials needed to develop such a solution simply did not exist. We've invested over five years of relentless R&D efforts to perfect it, and frankly, we believe no soldier would want to be without it once they are aware of it."

This highly anticipated innovation is scheduled to be unveiled globally at Milipol Paris on the 15th of November 2023, at MKU's booth in Hall 5, precisely at 10:30 AM UTC. Mr Neeraj Gupta, Managing Director of MKU, said: "At MKU, pushing boundaries is in our DNA. We listen to our heroes and embrace challenges head-on for them. Why? It's simple. Just as they dedicate their lives to protect us, we have dedicated ourselves to empowering them."

MKU, a key player in global defence and homeland security for over three decades, boasts a rich history of impactful contributions. Their portfolio of innovations includes the Kavro Body Armour System, a modular, mission-configurable combination of components that seamlessly integrate onto a body armour platform. Additionally, the Netro NB-3100 Aviation Night Vision Goggles, designed to enable aircraft and helicopter pilots to navigate effectively in low-altitude, high-threat environments, showcase their commitment to cutting-edge solutions. Furthermore, MKU's Netro MW-5000, a smart sighting and aiming system for Grenade Launchers and Large-Calibre Weapons, significantly enhances operational efficiency and target acquisition for operators of crew-served weapons.

The company has consistently proven its mettle as a leading defence equipment manufacturer, significantly contributing to various armies and defence agencies globally. Notably, its past contributions include safeguarding German Army containers from severe firing by terrorists and providing critical ballistic shields to the police forces of Norway and Sweden, supplying ballistic armour plates to the Spain border police to delivering over body armours to the Estonian police force. MKU's reach encompasses nations such as Brazil, Egypt, Philippines, and Chile, underlining the global demand for their cutting-edge solutions. Just 2 months ago, the company was chosen to supply ballistic helmets for Lithuania's border security enhancement. MKU has also collaborated with several technology giants like Thales and Dassault Aviation over the years to explore innovation in defence for soldiers, police and platforms.

The anticipation for Milipol Paris 2023 is palpable and MKU is at the heart of this excitement. While specific details about this innovation remain undisclosed, team MKU has invited significant stalwarts from the industry, including soldiers, police, professionals, academia, and enthusiasts, to witness this historic launch at Milipol Paris 2023 on the 15th of November 2023, preceding an exclusive preview on the evening of 14th November 2023 for their closed partner network.