in Defence / Events
MoD, Boeing and Babcock consolidate commitment to supply chain excellence at DSEI
The UK Ministry of Defence, Boeing Defence UK and Babcock International Group today joined the Supply Chain Solutions (SCS) Framework in a signing ceremony at DSEI 2023.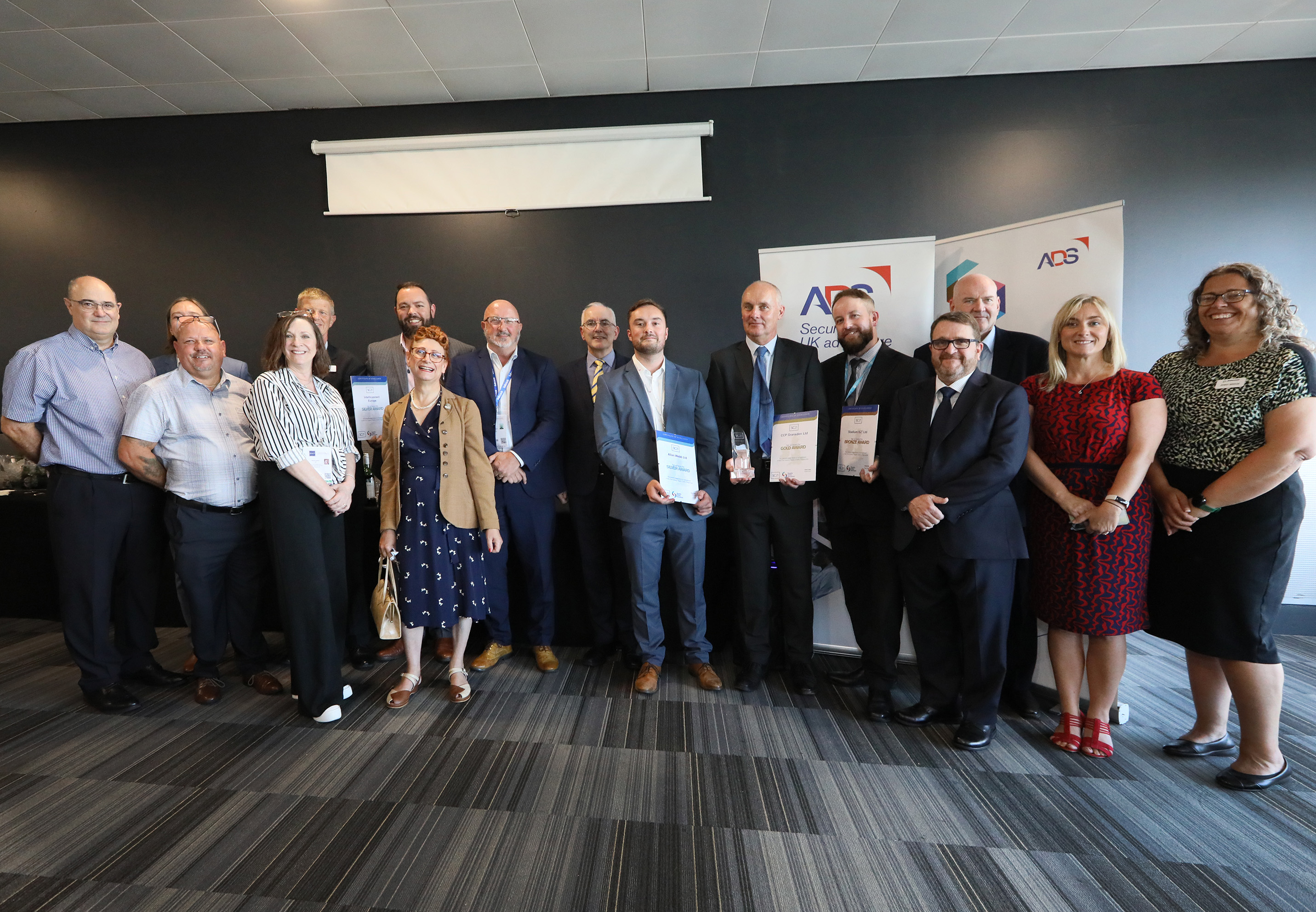 Above: SCS award winners with representatives from Boeing Babcock and the MoD.
Courtesy ADS

The SCS Framework marks the commitment by organisations to strengthen their relationships with the supply chain, with a total of 13 signatories.

The SCS Framework is facilitated by ADS Group, the UK trade association for aerospace, defence, security and space. The programme recognises the importance of the UK's supply chain ecosystem to delivering economic prosperity and national security.

Welcoming the three signatories, Kevin Craven, CEO of ADS commented: "The importance of robust supply chain relationships has never been more evident than in today's complex business landscape. The continued success of our wider Supply Chain Solutions Framework is testament to the significance of these relationships. ADS is pleased to onboard leading defence organisations to celebrate the importance of our defence industrial base."

Steve Burnell, Managing Director of Boeing Defence UK said: "Boeing is proud to join the SCS Framework and stand alongside the MOD and industry partners as part of our ongoing commitment to the UK aerospace supply chain.
"We have a rich and diverse network of over 650 UK suppliers, engaged on both local and global programmes, delivering significant value not only for Boeing but within the local communities in which they are based."

Martin Dolan, Group Director of Supplier Assurance, Babcock International Group said: "We are delighted to join the SCS framework and by doing so, celebrate our agile, innovative and versatile supply chain. Babcock are proud to recognise the commitment to excellence from across the UK's thriving industrial base, including our innovative SME suppliers."

MoD Director General for Industry, Trade and Economic Security, Avril Jolliffe said: "Alongside our industry partners, the MoD is proud to support the SCS framework. Through this work, we can do more to improve the productivity and competitiveness of the UK's defence sector."

Recognising supply chain success
During the event, the latest round of awards recognising business' ongoing commitment to manufacturing excellence were issued.

These include Northern Ireland's CCP Gransden, advanced composites specialists who received their first gold award, Intelliconnect Europe, a UK-based specialist manufacturer of RF interconnect solutions who picked up silver for the fifth year in a row, Allan Webb who received a silver award and Stadium IGT who received a bronze award.

Supply Chain Solutions (SCS) Framework
The SCS Framework is a simple access, cross sector programme led by industry through a partnership delivery model, facilitated by ADS on a not-for-profit basis in partnership with the Regional Aerospace Alliances (RAA) and Devolved Administrations (DA).

Its aim is to raise the supply chain capability of the UK SMEs; boosting growth, quality and delivery performance. The SCS framework provides a comprehensive set of services to support all companies in their development needs. It enables suppliers to improve their competitive performance, highlight opportunities to invest in innovation and digitalisation, as well as helping them understand how to progress towards their sustainability goals.

The SC21 programme is the cornerstone of the SCS Framework, serving as a best in class continuous improvement programme for the aerospace and defence sectors and optimises the customer-supplier relationship for mutual benefit.