in Defence
MoD invests £20m in small arms ammunition
The UK Ministry of Defence (MoD) has placed a new £20 million order with BAE Systems for the supply of additional small arms munitions over the next two years.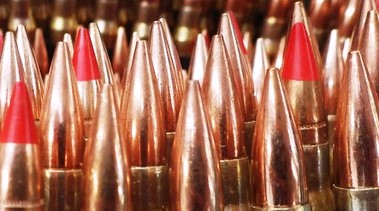 Above: Munitions at BAE Systems Radway Green.
Courtresy BAES

The 5.56mm and 7.62mm rounds will be produced at Radway Green, the Company's state of the art manufacturing facility which offers some of the most advanced ammunition production capabilities in the world.

The announcement follows the signing of a £410 million order for the supply of vital battlefield munitions to the MoD in September when it exercised an option to increase a £280 million supply order announced in July.

Glynn Plant, Managing Director of Munitions at BAE Systems, said: "We are proud to support the UK MOD as a strategic partner for munitions supply. The significant orders we have secured throughout the year has seen our teams increasing production rates, investing in people and new facilities and maximising shift patterns to meet this enhanced demand."

Grant Shapps, UK Secretary of State for Defence, said: "In an increasingly contested world, it is crucial that our forces are equipped to meet the threats of the future. Through contracts like these, with the best of some of our homegrown industry, we are continuing to ensure that we replenish and equip our forces, supporting jobs right across the UK."

The new orders will create more than 200 new highly skilled jobs in the North of England and South Wales, boosting the Company's 1,200-strong UK munitions workforce.