in Defence / Events
NP Aerospace awarded Volvo Defense vehicle armour development contract
NP Aerospace has been awarded a new development contract by Volvo Defense for the design, manufacture and supply of composite armoured cabs for militarised versions of their Volvo FMX Series trucks.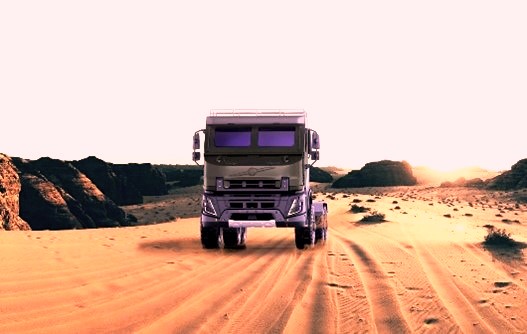 Above: A Volvo FMX Armoured Truck Cab which will be on show at DSEI.
Courtesy NP Aerospace

As part of the contract which was won via competitive bid in October 2022, NP Aerospace has developed a unique solution for fully armoured truck cabs which meets specific NATO STANAG 4569 and AEP-55 requirements for blast, ballistic and artillery shell splinter protection. STANAG Level 2 (KE & FSP) as a minimum with standard armour, with an option to upgrade to STANAG Level 3 (KE & FSP) with applique armour packs.

Peter Hardisty, NP Aerospace Managing Director & Senior Vice President, commented: "The ability to offer STANAG Level 3 protection on a single front axle truck is a sector leading innovation. We believe this delivers modularity and flexibility which will benefit end customer requirements; whilst offering space to cater for CBRN ventilation systems, radio equipment, and WRM systems. We are pleased to be working with Volvo Defense as survivability partner. It is a significant step for both companies as we extend our capabilities into armoured truck cab programmes."

Roger Brorsson, Volvo Defense Product Director, said: "We selected NP Aerospace due to their vehicle armour design and manufacturing capability gained across numerous complex vehicle programmes working with large defence organisations. We are excited to be able to showcase our first armoured truck cab prototype at DSEI - the result of hard work and dedication of both teams over the last ten months to meet an aggressive timescale."

Truck cabs will be fully integrated by NP Aerospace in its armour manufacturing and engineering headquarters in Coventry, UK, before being delivered to Volvo Defense in Gothenburg, Sweden, for final integration. NP Aerospace will conduct ballistic testing of the solution later this calendar year, before commencing with prototype developments for Volvo Defense to trial during 2024.