in Space
Pioneering worldwide space partnerships to boost UK innovation
British space experts will join forces with organisations around the world to develop cutting-edge technologies that will advance global space capabilities.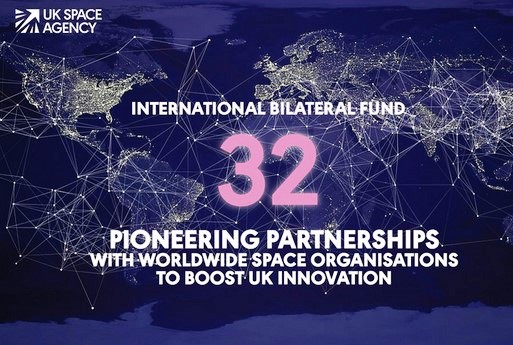 Above: International Bilateral Fund, supporting 32 pioneering partnerships with worldwide space organisations to boost UK innovation.
Courtesy UKSA

The UK Space Agency (UKSA) has announced the recipients to receive the first phase of its £20 million International Bilateral Fund investments, which will help UK organisations link up with the US, Canada, Australia, Japan, India, Singapore, South Africa and more to form collaborations that will progress space research and catalyse investment in new technologies.

The International Bilateral Fund is the Agency's first fund dedicated to building and strengthening international relationships to help advance the UK's goals in space.

While some projects will focus on enhancing those relationships to unlock future economic opportunities for the UK, others will focus directly on science missions and technologies with strong commercial potential. From using superconductors for spacecraft control to space traffic management and satellite launch vehicles, the portfolio of projects represents the full breadth of the sector.

Dr Paul Bate, Chief Executive of the UK Space Agency, said: "Working with other space agencies and organisations across the globe through our International Bilateral Fund allows us to draw on skills that enhance our homegrown expertise and capabilities, drive up investment in the UK, and support world-class science and discovery.

"Projects such as these highlight the many ways in which we can collaborate with the global space community to help humanity push the boundaries of space innovation and unlock commercial opportunities that will benefit our economy now and in the future."

One project led by UK-based Vertical Future will partner with Axiom Space, Saber Astronautics, Cambridge University and the University of Adelaide to kick-start the development of a state-of-the-art autonomous controlled environment for plant growth to support space missions.

Meanwhile, satellite manufacturer In-Space Missions will work with a dedicated regional Asia-Pacific Government collaboration (incorporating Singapore, the Philippines, Taiwan, Thailand and Indonesia) to develop Faraday Dragon, a multi-agency accelerator programme that will ease the export of novel space technologies and access to space via rideshare missions.

These bilateral partnerships will not only strengthen UK space sector capabilities by drawing on expertise from around the world, but they will ensure the UK, and its world-leading scientists, remain a driving force behind generating a diverse and collaborative global space sector that benefits the world for generations to come.

Lizzie Kerr, Director of UKspace, said: "UKspace welcomes the announcement of the first projects funded under the UK Space Agency's International Bilateral Fund. International collaboration underpins the success of the UK's space sector – and this new programme is an important new route to unlock new international partnerships, benefitting companies overseas and here in the UK."

The full list of projects, which will each receive up to £75,000 of the initial £2.1 million pot, includes the following:
University of Glasgow x Australian Remote Operations for Space and Earth Consortium (Australia)
Development of a novel approach to lunar regolith sampling.
Rolls-Royce x BWXT Advanced Technologies LLC (USA)
International collaboration on industrial research into novel space nuclear technology development.
University College London x University of Bordeaux x University of New Hampshire
Enhancing firmware code and providing an updated prototype for use in HelioSwarm/iESA.
University of Leicester and National Nuclear Laboratory x ispace Inc (Japan), Aerojet Rocketdyne, NASA Glenn Research Center, John Hopkins University (USA)
Co-operation around radioisotopes for use in space technologies to develop a commercial pipeline.
Satellite Applications Catapult x Obruta Space Solutions Corp (Canada)
Developing a low-Earth orbit (LEO) regulatory and technology testbed for in-orbit servicing and manufacturing.
University of Exeter and University of Leicester x an international coalition across the USA, Japan, Canada and Australia
Development of fluorescent deep space petri pods.
Frontier Space Technologies Ltd x The Exploration Company (Germany)
In-orbit biopharma research and development.
Seraphim Space Camp Accelerator Ltd x Singapore Technologies Engineering Ltd, Temasek Holdings, OSTIn, Enterprise Singapore and SG Innovate (Singapore)
Seraphim Space Accelerator's expansion into Asia.
Deimos Space Ltd and SJE Space Ltd x Silentium Defence Trading (Australia), Exa Research (USA)
Complementary use of different sensing technologies to increase coverage.
Telespazio UK x Symbios Communications, National Physical Laboratory (Australia)
Developing a new quality assurance platform for Earth Observation data.
Earth-I Ltd x Planet Labs PBC (USA)
Novel approach to achieving high-revisit surveillance of sites of interest to the defence, security and intelligence community.
Vertical Future Ltd and University of Cambridge x University of Adelaide (Australia), Axiom Space (USA), Saber Astronautics (Australia and USA)
Autonomous agriculture to support space exploration.
University of Bradford and Satellite Applications Catapult x Japan Aerospace Exploration Agency [JAXA] and Fujitsu Services (Japan)
Developing next generation space-grade AI devices for data analytics and operational efficiencies for satellite constellations.
Astroscale Ltd and OrbitFab x Astroscale Japan Inc.
Strengthening relations with Japan to unlock in-orbit servicing investment.
The Open University, XCAM Ltd and Teledyne UK Ltd x Indian Space Research Organisation (India)
Development of next generation X-ray instrumentation for space and planetary science.
Iota Technology Ltd and RAL Space (UK) x Twinleaf LLC (USA)
Development of a nanosatellite with capability to map Earth's magnetic field.
University of Surrey, University of Southampton, University of Portsmouth, Surrey Satellite Technology and Twin Paradox Labs x Office for Space Technology and Industry [OSTIn] (Singapore)
Understanding satellite collaborations on monitoring air pollution and atmospheric weather forecasting.
AstroMagnetic Systems Ltd x New Space Systems (South Africa)
Spacecraft control using liquid metal and superconductors.
Strathclyde University x University of Arizona and MIT (USA), University of Waterloo and Columbiad Launch Services Inc (Canada)
AI for space safety and sustainability.
Surrey Satellite Technology Ltd, Assimilia, RALSpace x CSIRO Space and Astronomy and Smartsat CRC (Australia)
Creation of an integrated ground-to-space national water quality monitoring system.
Frontier Space Technologies Ltd x Sierra Space Corporation (USA)
Development of a commercial biotech platform for industrial microgravity application.
University of Southampton x University of Michigan, Pulsar Fusion and Starlight Engines (USA)
US-UK collaboration on the development of Hall thruster spacecraft propulsion.
Assimila Biosecurity Ltd x Cervantes Agritech Pty Ltd and CABI (Australia)
Using Earth Observation, climate and weather data to predict and manage biosecurity risks.
LENA Space x Taiwan Space Agency [TASA]
Developing a concept for a satellite launch vehicle cryogenic turbopump.
AstroAgency Ltd x AzurX Tech Ltd and Mohammed Bin Rashid Space Centre (UAE), National Space Science Agency (Bahrain)
Collaboration on Earth observation and data analytics, and developing the UK-UAE/Bahrain space relationship.
University College London x NASA JPL (USA)
Growing the UCL/JPL partnership: non-gravitational force modelling for precise orbit determination and space traffic management.
Reaction Engines x Virgin Galactic (USA)
Combining innovative UK air-breathing propulsion with US airframe capability for space access.
In-Space Missions x Singapore Space and Technology Ltd, OSTin and A*STAR Research Entities (Singapore), Geo-Informatics, Space Technology Development Agency (Thailand) and Philippines Space Agency, TASA, National Research and Innovation Agency (Indonesia)
Development of a multi-agency technology and business accelerator programme via regular in-orbit payload rideshare missions (Faraday Dragon).
The Open University x Lunar and Planetary Laboratory, University of Arizona and Ball Aerospace and Technologies (USA)
UK detector technology for future NASA high-resolution imaging of the Moon and Mars.
University of Leicester, Geospatial Insight Ltd, CGI IT x Bahrain National Space Science Agency, Kanoo (Bahrain)
Miniaturised rapid deployment high resolution carbon mapping sensors for monitoring GHG emission management programmes in the Gulf region.
D-Orbit x High Earth Orbit Robotics Pty Ltd (Australia)
Responsive in-orbit inspection service.