in Defence
RAF achieves Initial Operating Capability on latest TATCC
The third and final Royal Air Force Terminal Air Traffic Control Centre (TATCC) has achieved Initial Operating Capability at RAF Brize Norton.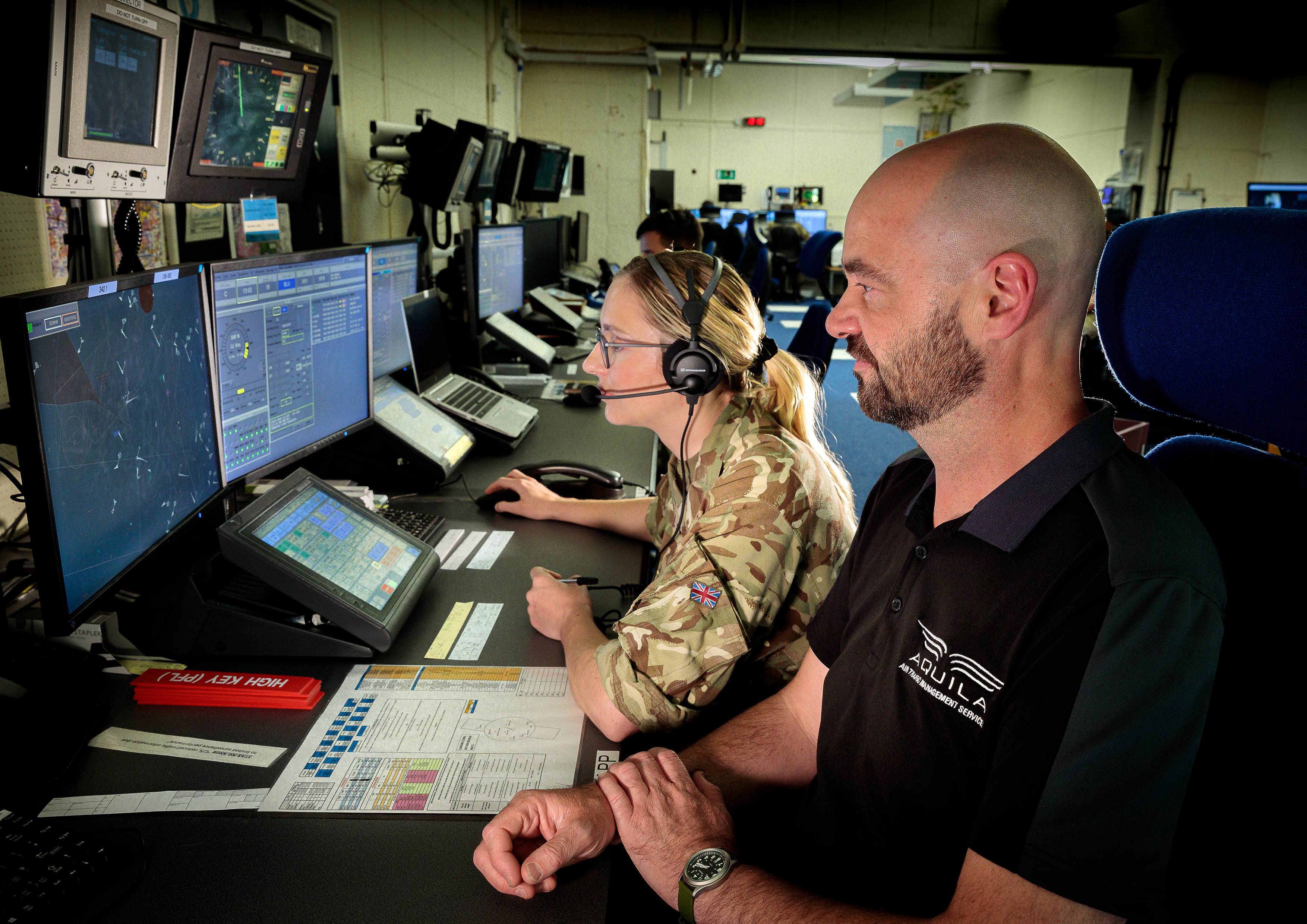 Above: Air Traffic Controller using the new tech with a contractor from Aquila.
Courtesy RAF

The move has seen the amalgamation of the RAF Brize Norton and RAF Benson Air Traffic Control radar teams to create TATCC (South), the latest 'hub' concept of Air Traffic Service delivery. The new centre joins existing hub sites at RAF Coningsby (TATCC (Lincs) providing services to Barkston, Cranwell and Waddington) and at RAF Marham (TATCC (East) providing services to Wittering).

The development has seen nine radar trained personnel move from Benson to Brize Norton where they have used the Thales TopSky display for the first time. The exploitation of feeds from cutting-edge STAR-NG and WAM surveillance sensors represents a huge stride forward in capability compared to legacy radar equipment.

This centralised model eliminates the need for radar staff to be dispersed over a wide geographic area, fosters improved co-ordination and allows for future optimisation.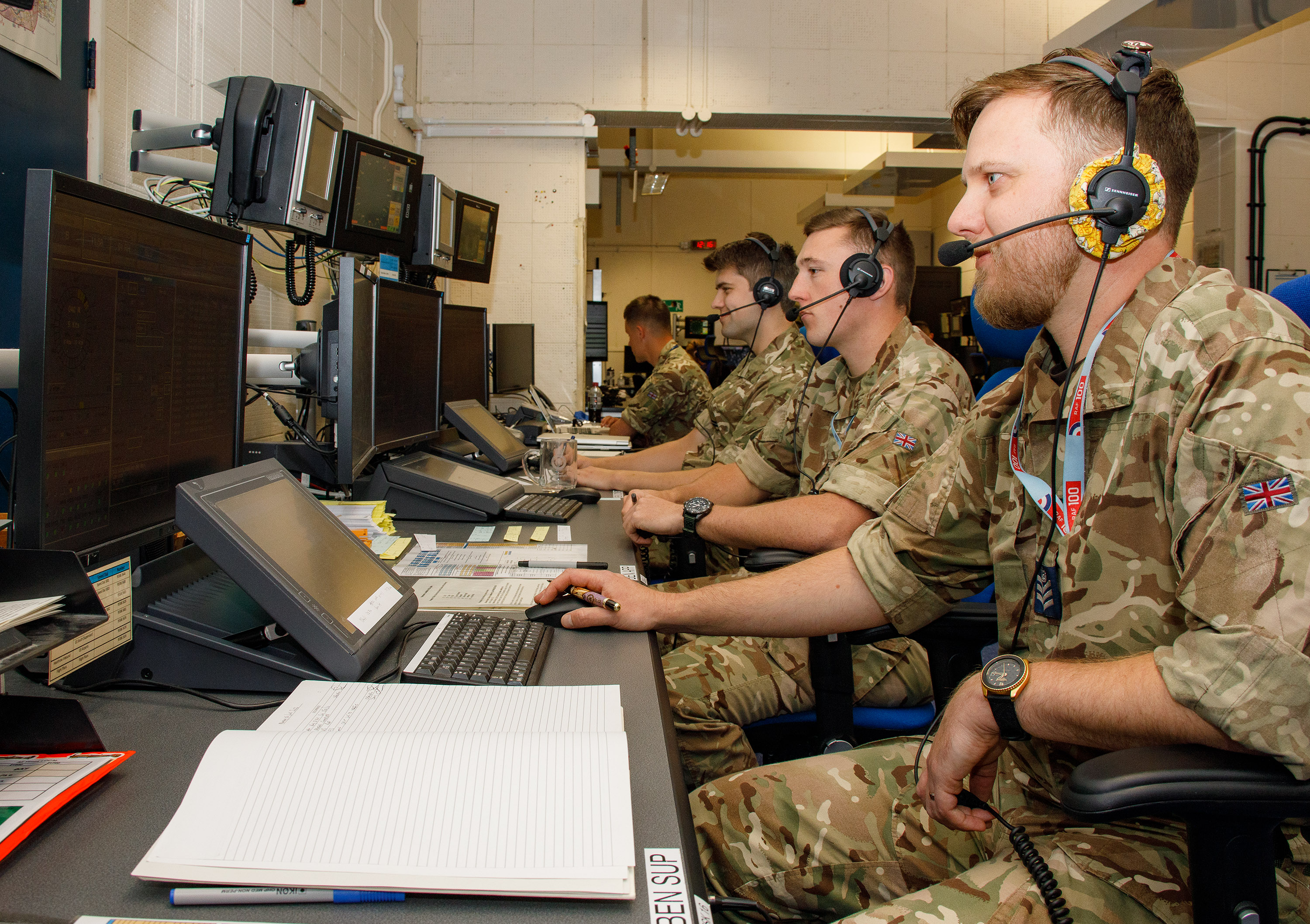 The change was welcomed by the TATCC (South) Commander, Squadron Leader Clayton who said: "It's a genuine privilege to be a part of the new beginning for Brize ATC now that it has transitioned to the TATCC(S). The incredible amount of effort by the team in the tower and on the Marshall Delivery Team is clear to see. I'm now looking forward to welcoming Odiham and Boscombe Down in the near future and delivering future optimisation."

The current staff strength of circa 70 personnel is set to rise to over 90 in 2024 when additional personnel from RAF Odiham and MoD Boscombe Down join the team. This expansion is the next step to a Full Operating Capability that will see TATCC (South) become the largest terminal ATS provider in the UK Military.

The move is part of Programme Marshall, a £1.9 Billion investment in Military Air Traffic equipment throughout the whole Defence estate, at home and abroad.

The delivery of the complex and highly technical project has required significant cross-functional effort from teams within DE&S, 2 Group Battlespace Management and Aquila.

The importance of this relationship was echoed by Aquila CEO, Mike Stoller, who said: "The creation of the TATCC at RAF Brize Norton is the result of strong collaboration between Aquila, our team partners and our customer the MoD. The TATCC or 'Hub' concept is at the very core of Marshall and just one of many benefits that the programme is delivering. Programme Marshall is set to transform air traffic management at our military sites across the UK and overseas."

With another key milestone reached, the programme continues at pace delivering new and proven equipment to ensure our Air Traffic Service providers have the best tools available to them.