in Space / Events
RM Technology and SaxaVord Spaceport form Starflight Academy
SaxaVord Spaceport and Edtech solutions provider RM Technology, have partnered to form Starflight Academy – a space STEAM initiative, co-created with NASA astronaut teacher Mike Mongo – with the programme unveiled at the Goodwood Festival of Speed - Future Lab innovation pavilion, 13th-16th July 2023.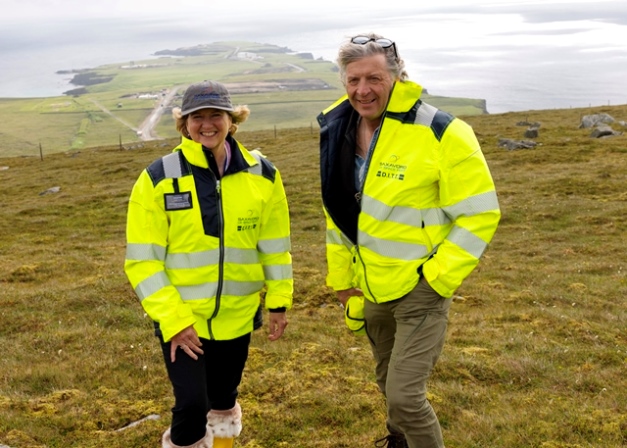 Above: Debbie and Frank Strang.
Courtesy SaxaVord Spaceport

Starflight Academy will offer children and adults an opportunity to delve into the world of space exploration. During the four-day event, the STEAM initiative will bring the excitement of space exploration to the classroom with interactive virtual classroom sessions taking place from Durham to Somerset. The initiative offers access to content tailored to 21st century learning pathways.

The academy's launch comes as new data reveals the UK space sector contributed £7 billion to the UK economy last year. RM Technology and SaxaVord Spaceport, located on the most northerly inhabited island in the UK, expect the programme to help younger generations gain unique insights into space exploration and future missions.

Jason Tomlinson, Managing Director of RM Technology, said: "The demand to drive interest and innovation to help grow the future workforce of the space industry is skyrocketing within the UK. The economics of space have never been more compelling as prior technological challenges have diminished significantly. Together with SaxaVord Spaceport and astronaut teacher Mike Mongo, we aim to ignite the passion for space exploration in younger generations by enabling them to embark on an educational journey that sparks their curiosity and creativity. We're committed and confident that Starflight Academy will play a role in shaping the future workforce of the space industry."

Frank Strang, Founder SaxaVord Spaceport, added: "STEAM skills are the building blocks for a thriving space sector that is accessible to all. With such an exciting space industry unfolding in Shetland and beyond, our mission is to prepare future generations with the interest and skills to support our sector's exciting future. This is something we have been doing locally here in Shetland as well as globally through our education programme which has seen us engage with children to foster their STEAM and teamwork skills and offer them a taste of a career in the space industry. As we look towards our first suborbital launch later this year, we're thrilled to be partnering with RM Technology at Goodwood's Future Lab to showcase the possibilities of space for tomorrow's astronauts."