in Defence
Rolls-Royce creates engine controls capability in Indiana
Rolls-Royce has created new engine controls capability near the campus of Purdue University, West Lafayette, Indiana, to support the company's US defence business, including the F130 engine competing for the US Air Force B-52 programme.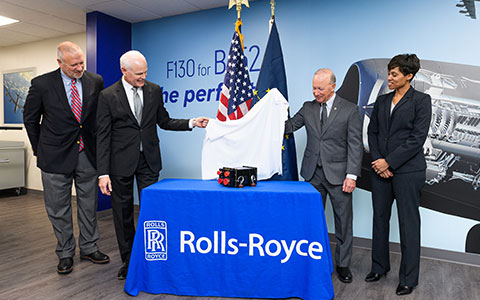 Above: Unveiling an electronic engine controller for the Rolls-Royce AE 3007H jet engine during an announcement of a new engine controls facility in Discovery Park District are from left Brian Edelman, president of Purdue Research Foundation; Tom Bell, President - Defense and CEO of Rolls-Royce North America; Mitch Daniels, Purdue University president; and Candice Bineyard, Director of Defense Programs for Rolls-Royce.
Courtesy Purdue University photo / Rebecca McElhoe

Rolls-Royce will assemble and test electronic engine controllers, which help manage in-flight engine operations. The first controller has been completed at Rolls-Royce in the Purdue Research Foundation's Discovery Park District adjacent to the Purdue campus at West Lafayette, Indiana, and will be installed onto a Rolls-Royce AE 3007H engine, manufactured at the company's facilities in Indianapolis, US.

Tom Bell, Rolls-Royce, President - Defense and CEO of Rolls-Royce North America, said: "Rolls-Royce has partnered with Purdue University for decades and we are excited to launch our new controls capability on campus to assemble and test these high-tech engine components. Whether for the Rolls-Royce AE family of engines or for our competitive F130 engine for the B-52, these new controllers will support US military pilots as they fly around the world, offering the highest-quality technical product."

Brian Edelman, president of Purdue Research Foundation, said: "The new electronic engine controllers that Rolls-Royce is developing build on the long history of collaborative research and development between Purdue and Rolls-Royce. It also is a great opportunity for Rolls-Royce to expand on the success of the company's 2017 opening of its research and development of jet engine components in the Discovery Park District."

Purdue University has been designated as a Rolls-Royce University Technology Partnership and collaborated on research including advanced engine technology, materials and testing capability with Rolls-Royce investment at the university topping $18 million since 2015 and more than 600 Purdue graduates among the company's workforce in Indianapolis. Rolls-Royce and Purdue have also collaborated on initiatives in cybersecurity and digital technology, as well as the new controls project.

Electronic engine controllers help operate complicated gas turbine engines, monitoring and adjusting multiple factors such as air and fuel flow. The high-tech controllers, about the size of a laptop computer, are safety-critical technical components that reduce pilot workload and enhance fuel efficiency.

The very first engine equipped with the new controller will be delivered to Northrop Grumman for installation on a US Navy Triton aircraft. Additionally, the new controllers will be installed on AE 3007 engines bound for the US Air Force Global Hawk and the US Navy MQ-25 Stingray aircraft.

The facility at Purdue will also assemble electronic controllers for Rolls-Royce F130 engines for the Air Force B-52 strategic bomber re-engining programme, if the company wins the engine competition later this year. F130 engines would be manufactured at the company's Indianapolis facilities and Rolls-Royce would add more than 150 new jobs in manufacturing, engineering, program management and other positions for the F130 program.

Rolls-Royce has delivered more than 7,000 engines in its AE family from Indianapolis, for a wide variety of defense and commercial aircraft. Defense aircraft powered by AE engines include the V-22 tiltrotor, the global C-130J fleet and the Global Hawk high-altitude, unmanned aerial vehicle.

A $600 million Rolls-Royce investment in modernisation and technology programmes is nearing completion in Indiana, including state-of-the-art advanced manufacturing at its Indianapolis facilities.

Rolls-Royce employs 6,000 people in 27 states across the US, from southern California to Walpole, Massachusetts. In addition, Rolls-Royce business supports more than 52,000 jobs across the US, adding nearly $9 billion to the nation's economy each year. Rolls-Royce has invested nearly $1 billion in Research and Development in the US since 2013.