in Defence
Serco collaborates with SAGE to support Australian Defence Force
Serco Australia and SAGE Group (SAGE) are collaborating to develop outcomes which build, support and deliver integrated maritime defence solutions for the Australian Government.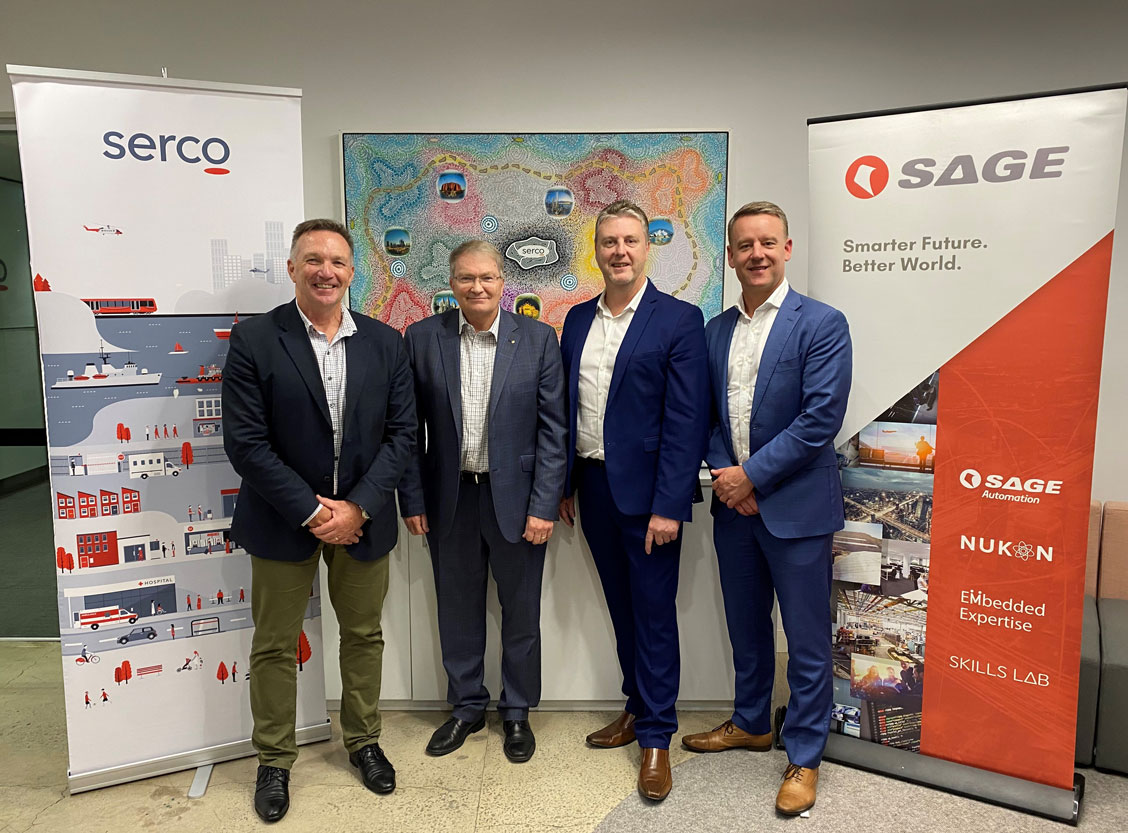 Image courtesy Serco

Serco and SAGE share deep industry knowledge, capability, and capacity to jointly provide enhanced service delivery. By working together, the two companies will offer superior value-for-money, innovative and sustainable outcomes for the Australian Defence Force and other industries.

At a Memorandum of Understanding (MoU) signing in Sydney on 24 March, Serco Defence Managing Director, Clint Thomas AM, CSC, said the MoU will create a seamless process between the development of solutions and products that support service delivery.

"Serco has more than 20 years' experience supporting Defence Force base operations, with a clearly defined and continually refined management system that enables us to deliver services brilliantly across the entire Serco Global portfolio," Mr Thomas said.

"Serco's expertise is not just in management, but also in the technical delivery of services. We demand these same high standards in enabling technology that supports the continual improvement of our service delivery from product developers.

Serco and SAGE have agreed to actively pursue innovative processes and technologies to reshape and remodel the Defence Estate portfolio.

"Serco currently provides infrastructure, assets, products and services to the Commonwealth, which support Defence Capability. We are familiar with the innovative products and capability that SAGE Automation brings to industry, together with their highly skilled workforce and leadership, I am excited about what we can achieve," Mr Thomas said.

Chief Operating Officer at SAGE Group, Adrian Spencer, who signed the MoU on behalf of SAGE said, "SAGE is delighted to be embarking on this collaborative programme with Serco to bring together our specialist capability and broad defence experience to collectively deliver even greater value to Defence estate and infrastructure. We look for partnerships that create impact and see that this MoU with Serco will certainly deliver impact for our customers, our companies and our sovereign defence capability," Mr Spencer said.

"SAGE and Serco have a shared passion for making the future better. Together, we will develop price-performance ratio solutions that further sustain Defence Capability."

Serco and SAGE will establish technical solution workshops to deliver tangible benefits to more than 50 Defence bases across Australia.