in Defence / Space / Events
Space-Comm Expo concludes for 2021
Space-Comm Expo, the UK's first event dedicated to the commercial future of space, concluded today with a focus on defence, featuring representatives from the Royal Air Force, Dstl and Space Command joining global defence contractors to discuss a secure space future for Britain.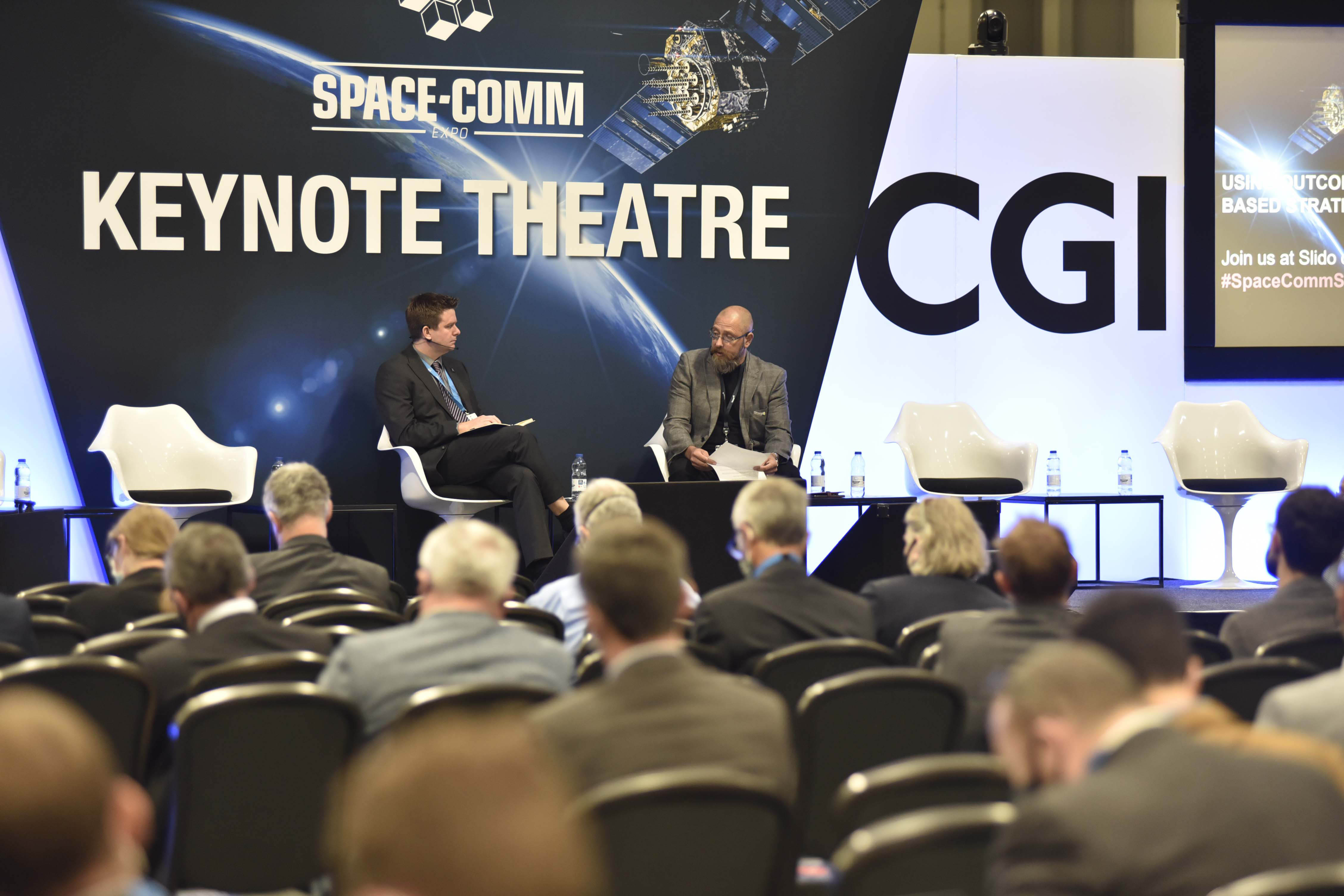 Image courtesy Farnborough International

Dr Mike O'Callaghan, Space Senior Principal Programme Manager at Defence Science and Technology Laboratory (Dstl), joined Steve Beeching, Managing Director of Viasat, for the opening keynote to discuss actioning a sustainable space-based strategy.

The pair (above) explored new ways to expand space-based connectivity. They touched on how the space eco-system needs to be considered beyond spacecraft launches and satellites, to include ground infrastructure, terminals, network operations, flight control, cyber and security, machine learning and artificial intelligence.

One of the most popular keynote sessions during the day came from a panel discussion looking at how we secure Britain's space future. In the discussion, Nik Smith of Lockheed Martin was joined by Kevin Craven of ADS, Joanne Wheeler from Alden, Andrew Kennedy from BAE Systems and Gp Capt. Rayna Owens, Deputy Head, Capability(Ops) At Space Command. The group dug into what the UK could and should be working on with its allies to provide security and safety for commercial and civilian space operators, and the need for more robust MoD structures to counter and deter threats in space.

"For organisations focused on the space sector, the security and safety of space is something that is often front of mind. As a result, it's an area we felt was vital to include in the programme at Space-Comm Expo. Today's speakers have provided attendees with some real food for thought on the intersection of defence and space. In line with this discussion, we've had the pleasure of welcoming attendees from across government, military and public sector organisations, so we hope there will be some clear progression for everyone in this area in the future," commented Rob Sherwood, Managing Director of Hub Exhibitions. "Overall, we've also had a fantastic second day at Space-Comm Expo. My thanks go to all our partners, sponsors, exhibitors, and speakers who have enabled us to deliver this event in a Covid-secure manner. I look forward to seeing everyone again next year."

A greener space future was also a focus for the day, with several compelling sessions taking place. One of the most insightful points came from Inmarsat CEO Rajeev Suri, during a panel discussion with The RT Hon Chris Skidmore MP, Doug Liddle, CEO of In-Space Missions and Gabriel Elefteriu, Director of Research at Policy Exchange. Mr Suri set out his vision for the UK Space Sector and called for a Net Zero target in space, noting that "space debris threatens the numerous indispensable services we rely on. Therefore, it should concern us all and it is time to do something about it."

Additional highlights from day two at Space-Comm Expo 2021 include:
Paul Day, Business Development Executive for Space at Raytheon UK, dug into multi-domain command & control. He shared how what was once domain-centric information could be brought into a single command and control system which would enable near-instantaneous decision-making and ensure mission success.
In the Downstream Theatre Dr Jon Blower, CTO for the Institute for Environmental Analytics at the University of Reading, provided a study on green financing in the space sector. Dr Blower shared how connection needs to be made between UK science and innovation with financial institutions, providing a route by which needs are understood and the latest climate and environmental science is made accessible, commercialised, and exported globally, placing the UK as a global hub for climate and environmental analytics for financial institutions.
Kevin Jones from CGI hosted a stand out panel discussion on UK space domain awareness, featuring Gp Capt. Rayna Owen from Space Command, Clive Oates from Surrey Satellite Technology Ltd, Katherine Courtney formerly from UK Space Agency and Emily Mills from the UK Space Agency. The group looked at the future risks, threats, opportunities and implications for UK space domain awareness from 2030 onwards, touching on how the UK needed to ensure it held up international behaviours, norms and law's as part of this.
A panel session, hosted by Airbus' Allen Antrobus, brought together David Waller from the Royal Air Force, Rachel Bird from Surrey Satellite Technology LTD along with both Alan Dawes and Des Curran of Airbus to discuss UK military space challenges. The group focused on how a collaborative approach to defence in space will not only meet future space challenges but will drive the sector forward.

Space-Comm Expo returns to Farnborough International Exhibition and Conference Centre on 7-8 September 2022.