in Space
Space X Crew-1 set for launch to ISS
On Sunday 14th November 00:49 2020, weather permitting, SpaceX's Crew-1 will be the first long-duration mission to the International Space Station (ISS) onboard a Crew Dragon spacecraft.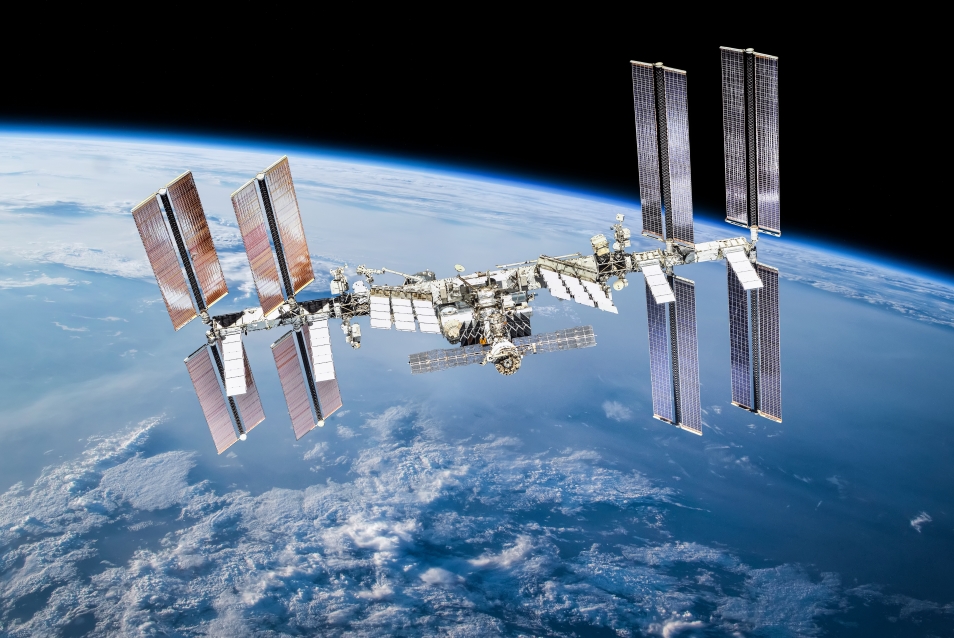 Above: International Space Station (ISS) By Dima Zel / Copyright Shutterstock
Image By Dima Zel Copyright Shutterstock

Crew-1 follows on from SpaceX Demo-1 mission in May 2020, which was the first Commercial Crew vehicle to visit the ISS.

The launch will see astronauts Victor Glover (USA), Michael Hopkins (USA), Shannon Walker (USA), and Soichi Noguchi (Japan) travel to the ISS to join current residents, Kate Rubins (USA), Sergey Ryzhikov (Russia) and Sergy Kud-Sverchkov (Russia).

Once on board the ISS, Air Force astronaut Michael Hopkins will become the first person to officially be sworn into Space Force, the newest branch of USA military, which was established in December 2019.

This will be the first time seven astronauts have inhabited the ISS at any one time, allowing for more time to be dedicated to the experiments which take place on board.

The first significant UK industrial contribution to the ISS, the ColKa communications terminal, is currently onboard the ISS and will be installed by the astronauts on a spacewalk early next year. This terminal will significantly upgrade the communications abilities in the Columbus module, where many of the UK science experiments take place.

To date, UK scientists have been involved in 17 cutting-edge experiments that have taken place on the ISS and 33 others that are currently being developed and readied for future flight. In total, more than 2,700 investigations from researchers in 108 countries have been accomplished aboard the orbiting facility. At any one time there are around 250 experiments taking place onboard.

Of the 17 experiments, three have been led by UK principal investigators (PI) including:
In 2018 Molecular Muscle Experiment – led by Prof Nate Szewczyk. Research using worms looked at muscle loss in space with the aim of finding new treatments for muscular conditions for people on Earth. A UK Space Agency funded follow on experiment MME2 is due to launch in 2021.
In 2019 BioRock project – led by Prof Charles Cockell at Edinburgh University, to build world's first space rock mining devices which use bacteria to recover minerals from rocks on the Moon and Mars was sent into son a SpaceX Falcon Rocket. This team is currently developing a follow-on experiment called BIOASTEROID which will fly to the ISS this year, the first privately funded experiment to use the BioReactor Express service.
SAFE COSMOS (Fire in Space) – led by Prof Grunde Jomaas, at Edinburgh University a project which looked to study, understand and improve the fundamental scientific knowledge of fire behaviour in microgravity to deliver a well-quantified fire safety strategy and the bespoke technologies necessary to implement it in future exploration missions.
Future science: there are nine experiments currently in development with UK PIs, these include 3D Bronchial Mucosa (Southampton, Prof Donna Davies) Pulsating Heat Pipes (Brighton, Marco Marengo) and MicroAge (Liverpool, Prof Malcolm Jackson)

The UK is also involved in the Lunar Gateway – the new space station that will orbit the Moon. As one of the partners involved in the Artemis Accords, the UK will take lessons learnt from the ISS and apply this when planning the Lunar Gateway mission. A joint agreement between the UK Space Agency and NASA will see aerospace company Thales Alenia Space build a chemical refuelling station which is due to be launched into space in 2027.

Libby Jackson, Human Exploration Manager and the UK Space Agency, added: "Hovering 400 kilometres above the surface of the Earth, the International Space Station is humanity's most remarkable scientific laboratory, so to see its largest ever crew on board is great news for science.

"Space is a unique environment to conduct experiments and the knowledge that scientists gain from this science helps can unlock breakthroughs that benefits us all, including furthering our understanding of diseases like cancer and Parkinson's Disease."

Earlier this month, on Monday 2nd November 2020, marked 20 years of humans continuously living in Space, aboard the International Space Station (ISS). Since 2012 the UK has contributed €165m to the venture. The station itself is as long as a football field, it whizzes round Earth at 17,000 mph and is 254 miles above our planet's surface.

The UK remains a leading member of the European Space Agency (ESA), which is independent of the EU. ESA membership allows the UK to cooperate in world-leading science on a global scale, enabling UK scientists and researchers access to a range of international R&D programmes.