in Defence / Security / Space
Thermoteknix marks 40 years of thermal imaging innovation
Cambridge based Thermoteknix is celebrating 40 years as an international engineering and manufacturing specialist of thermal imaging, night vision and temperature measurement solutions for industrial applications, defence, security and policing.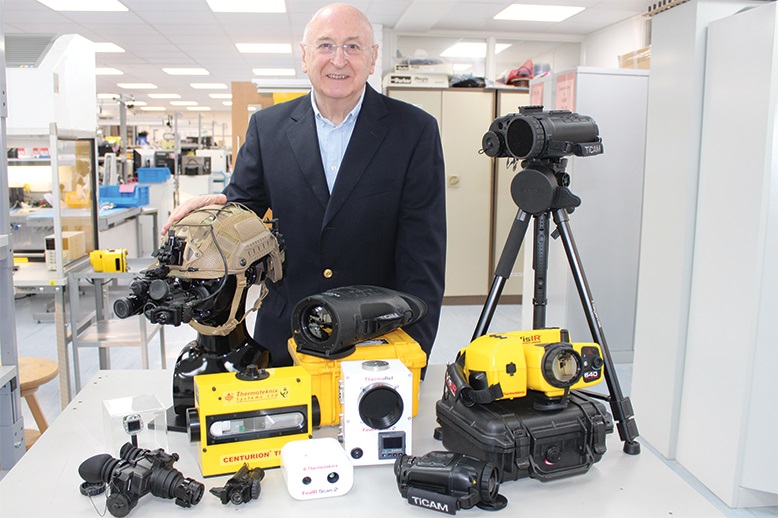 Above: Richard Salisbury, Founder and Managing Director of thermal imaging engineering firm Thermoteknix, based in Cambridge, UK, has been a multiple winner of the Queen's Award for Innovation and Export.
Courtesy Thermoteknix

Since its inception in 1982, the company has been at the forefront of thermal imaging technology. In 2022, Thermoteknix marks its 40-year milestone with production rollout on its ground-breaking new augmented reality (AR) fused night vision systems. With a substantial order book for Thermoteknix' latest AR technology, including deliveries this year to the British Army to enhance night-time military operations as part of the dismounted soldier modernisation programme.

Notable milestones throughout Thermoteknix' 40-year history include:
Queen's Awards for Export and Innovation awarded on three separate occasions, the highest public accolade for British businesses.
Delivering thermal imaging temperature measurement solutions for Formula 1 and IndyCar racing to help improve car performance on the track.
Supplying mission critical thermal imaging cameras for the United States Aegis Anti-Ballistic Missile Defense Program.
Thermoteknix thermal imaging cameras have also played a vital part in space exploration. In 2009, the company developed a unique thermal camera for NASA for its successful Lunar Crater Remote Observation and Sensing Satellite (LCROSS) mission. Images beamed from a Thermoteknix camera back to earth confirmed the presence of sub-surface water on the moon.

Back on earth, Thermoteknix industrial thermal imaging cameras play a vital part in process control, minimising pollution and maximising production in the cement manufacturing and other heavy industries.

COVID-19
In 2020, the outbreak of COVID-19 saw Thermoteknix call on its brightest engineering minds to respond to this humanitarian crisis by designing and delivering a temperature screening and face mask detection system that could be easily installed and operated in hospitals, schools, airports, banks, food manufacturing plants and vital businesses around the world.

As the company enters its 40th year of business, Thermoteknix remains committed to market leading innovation and investment in its UK-based manufacturing business which prides itself on its substantial international customer base.

"Our company has experienced exceptional growth and development over the past four decades. This has been largely due to the tremendous effort and commitment of our staff to deliver exceptional quality to customers and push the boundaries of technology to achieve ground-breaking solutions. Together, the Thermoteknix team is proud to be playing its part in making the UK the world's leading innovation economy," said Dr. Richard Salisbury, Founder and Managing Director

"Thermoteknix continues to focus on improving and evolving its patented thermal imaging technologies in order to expand its market reach across industrial, manufacturing and security sectors."