in Defence
UK Defence Secretary announces new package of military support for Ukraine
The Defence Secretary Grant Shapps has announced a new package of support for Ukraine and the signing of further air defence contracts, procured through the International Fund for Ukraine.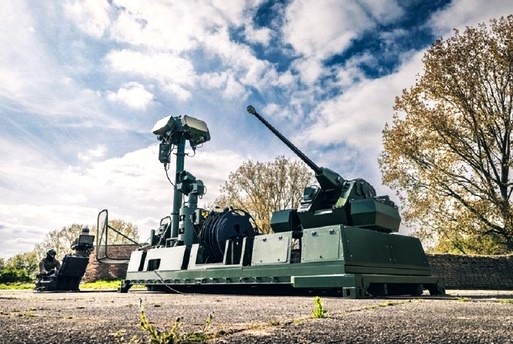 Above: The MSI-DS Terrahawk Paladin will be provided to Ukraine as part of the air defence package.
Courtesy MoD

A new package of military support for Ukraine, worth more than £100 million, was announced by the Defence Secretary yesterday. It will help its armed forces clear minefields, maintain its vehicles and shore up defensive fortifications to protect critical national infrastructure.

The support package, which will be provided using money from the International Fund for Ukraine (IFU), was jointly announced yesterday by the Defence Secretary and his counterparts from the IFU partner nations at a meeting of the Ukraine Defence Contact Group at NATO headquarters in Brussels.

It comes as the final contract from the previously announced IFU package of air defence capability was signed, which will see more than £70 million of capabilities provided to Ukraine – including the MSI-DS Terrahawk Paladin, a platform which can track and destroy drones and protect critical national infrastructure.

The UK and Denmark launched the IFU in 2022 and the UK engages closely with Ukraine to procure capability that best meets the needs of its armed forces. Since then, five other nations have contributed to the IFU, demonstrating the unity and resolve of allies and partners in supporting Ukraine.

Defence Secretary Grant Shapps said: "During my recent visit to Kyiv, I assured President Zelenskyy that the UK's support for Ukraine and their most urgent needs is unwavering.

"Today I am proud to announce that the UK, alongside our allies, is delivering on that promise with new contracts to provide Ukraine with critical air defence systems to protect civilians from Putin's barbaric bombing campaign, and more than £100 million of new equipment pledged to give Ukrainian soldiers what they need to breach Russia's deadly minefields."

The Defence Secretary was attending his first meeting of the NATO-Ukraine Council, where ministers from member countries and Ukraine discussed the ongoing international response to Putin's illegal invasion.

It provided an opportunity for the Defence Secretary to raise the UK's concerns regarding the crisis in Israel and Gaza, the developing situation regarding reported damage to undersea infrastructure between Finland and Estonia, as well as the UK's recent deployment to Kosovo in support of NATO's peacekeeping mission.

The announcement comes after the Prime Minister met President Zelenskyy at the European Political Community in Grenada last week. The Ukrainian President has said that air defence is Ukraine's most critical capability need and the Terrahawk Paladin will help deliver what Ukraine needs to protect its citizens from Putin's indiscriminate campaign of missile strikes against civilian targets.

This latest package will also provide crucial equipment to help Ukrainian soldiers cross minefields, bridging capabilities to assist with river and trench crossings, and heavy duty plant vehicles to destroy Russian non-explosive obstacles and help build defensive positions to protect Ukraine's critical national infrastructure.

Admiral Sir Tony Radakin, Chief of the Defence Staff, said: "This new package of support is the latest in an unprecedented and sustained effort by 50 nations to give Ukraine the tools it needs to counter Russia's aggression and recover what it has lost.

"This winter, Russia will seek to undermine the morale of the Ukrainian people and divide the international community, but in both cases Putin underestimates the strength and resilience of his opposition. If we stick together, and stay the course, then Russia will continue to lose, Ukraine will prevail and the rules that matter to global security will endure."

Ukraine is now the most mined country on earth, which has provided the biggest obstacle in the path of Ukraine's counter-offensive this year and mine clearing capabilities will be essential to the Armed Forces of Ukraine in pushing forward.

Equipment from both the air defence package and mobility support package will arrive in the coming months, joining other IFU-funded equipment already in Ukraine, including around 100 uncrewed aerial systems.

The IFU uses financial contributions from international partners to procure priority military assistance for Ukraine. This will ensure the continued supply of military support – lethal and non-lethal – to Ukraine through 2023 and beyond.

To date, £785 million has been raised through the IFU following contributions from the UK, Norway, Netherlands, Denmark, Sweden, Iceland and Lithuania.

The IFU has recently expanded to include Lithuania on its Executive Panel, which is now formed by the UK and six other nations which provide oversight and assurance of the Fund, including the endorsement of capability packages.