in Defence
UK Minister of Defence Procurement visits Appledore shipyard
Minister for Defence Procurement, James Cartlidge, has visited Harland & Wolff's Appledore shipyard as the company is set to deliver key naval programmes in line with the UK government's National Shipbuilding Strategy Refresh.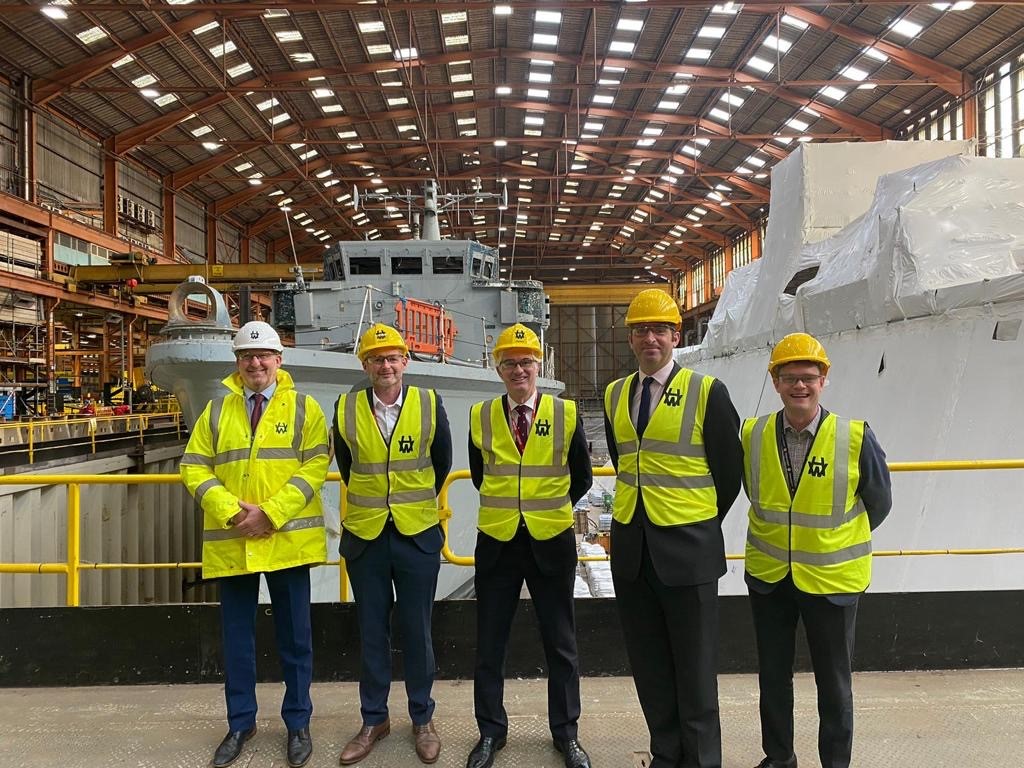 Image courtesy Harland & Wolff

Representatives from the company briefed the Minister on the company's business plan, comprising a five-market and six-service approach, which is being delivered across Harland & Wolff's four delivery centres in Appledore, Belfast, Methil and Arnish.

It was noted that Harland & Wolff has been investing in and upgrading its yards following the awarding of the Fleet Solid Support (FSS) contract to Team Resolute (comprising Navantia UK, Harland & Wolff and BMT) in January. The contract has unlocked £77 million of public and private investment for Harland & Wolff and the company is expected to create 1,200 UK shipyards jobs across its Belfast and Appledore shipyards throughout the contract's duration.

The Minister heard how the FSS procurement is underpinning growth across the group and that current projects including the fabrication of barges and recently announced SeaRose FPSO contract are helping the company ramp up to deliver the key naval programme.

In particular, the importance of investing in graduates and apprentices to the industry was emphasised. Harland & Wolff now has more than 140 apprentices located across the company's Belfast, Appledore, Methil and Arnish sites, as part of a drive to secure work for local communities and providing the UK the advanced shipbuilding skills-base it needs.

John Wood, Chief Executive of Harland & Wolff, said: "It was fantastic to have the Minister visit us in Appledore as we ramp up to deliver the FSS programme. Through the £77m investment we've received as part of Team Resolute, we've been transforming our yards to become some of the most advanced in the world as well as upskilling our workforce, transferring knowledge from Navantia, and welcoming hundreds of new colleagues into the business.

"Harland & Wolff is focused on increasing its competitiveness and is bringing its commercial approach to the world of defence to ensure programmes are delivered on time and on budget. Our recent agreement with Cenovus Energy, to upgrade the SeaRose Floating Production Storage and Offloading vessel, is a notable vote of confidence in our abilities and we will continue to enhance our capacity and capability to compete across the breadth of our markets."

James Cartlidge, UK Minister of Defence Procurement, said: "Shipbuilding sites such as Harland & Wolff's Appledore yard are key to diversifying the UK's industrial maritime capabilities – spreading skills and jobs across the country. It was a real pleasure to see apprentices working at the site, on the pathway to the kind of skilled employment we need to nourish if we are to build a viable industrial base.

"I was particularly pleased to see the progress being made to deliver the FSS programme, which is a Royal Navy priority. This demonstrates how participation in a successful procurement bid is helping to underpin long-term, secure jobs, that will be sustained across Harland & Wolff's multiple markets within defence and beyond."