in Defence
UK Protector prepares for testing at RAF Waddington
Striking images have been released of the UK's first Protector aircraft at RAF Waddington in Lincolnshire, where the aircraft is being prepared for testing and evaluation.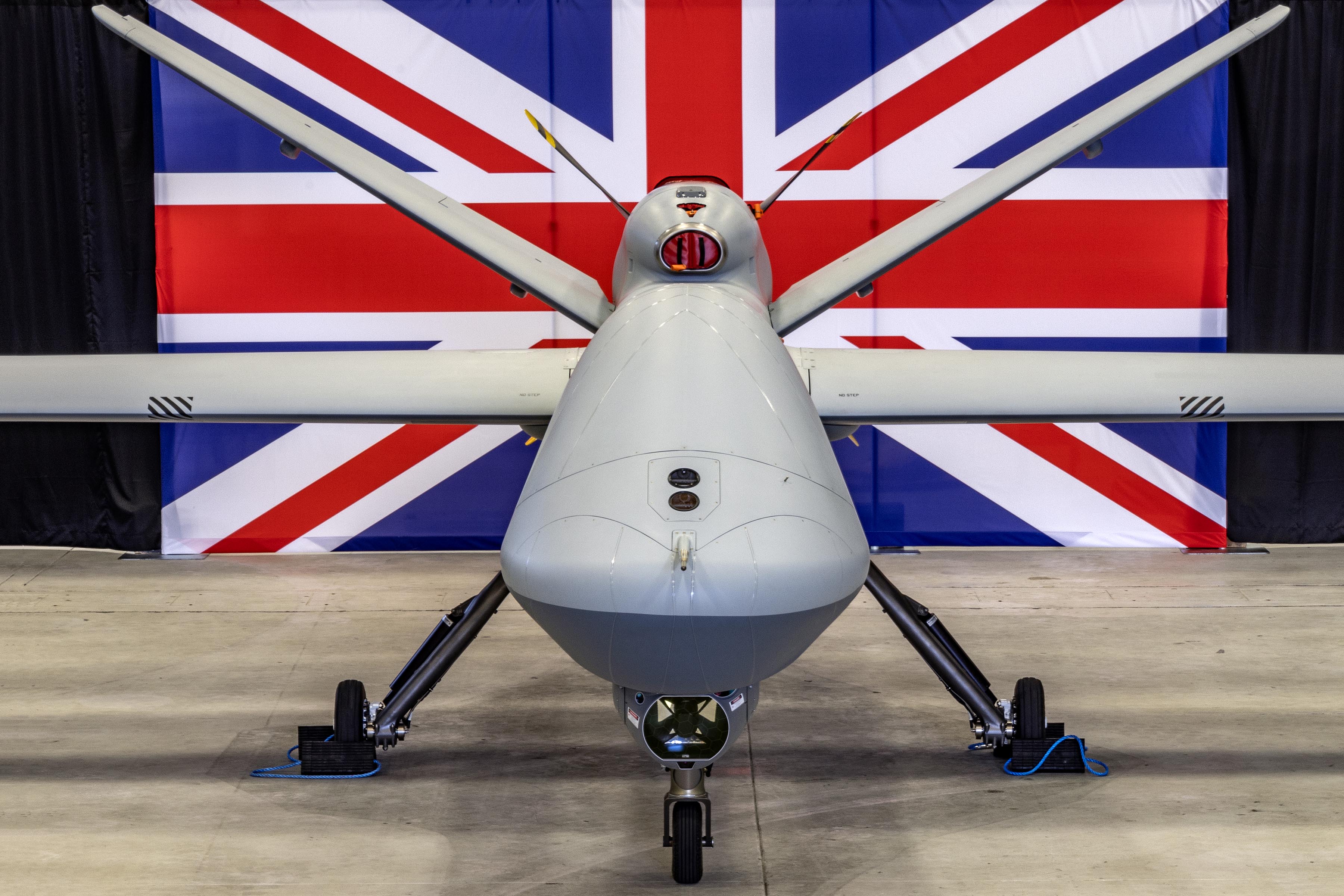 Above: Protector MQ-9B Finished Build.
Courtesy DE&S

DE&S have negotiated contracts for 16 of the Remotely Piloted Air System (RPAS) aircraft, which are equipped with a suite of surveillance equipment that enables unparalleled surveillance and strike capability.

It will be able to undertake a wide range of tasking including land and maritime surveillance to track threats, counter terrorism and support to UK civil authorities, such as assisting HM Coastguard with search and rescue missions.

Remotely piloted from the Lincolnshire-based RAF base it can operate at heights up to 40,000 feet and has an endurance of over 30 hours.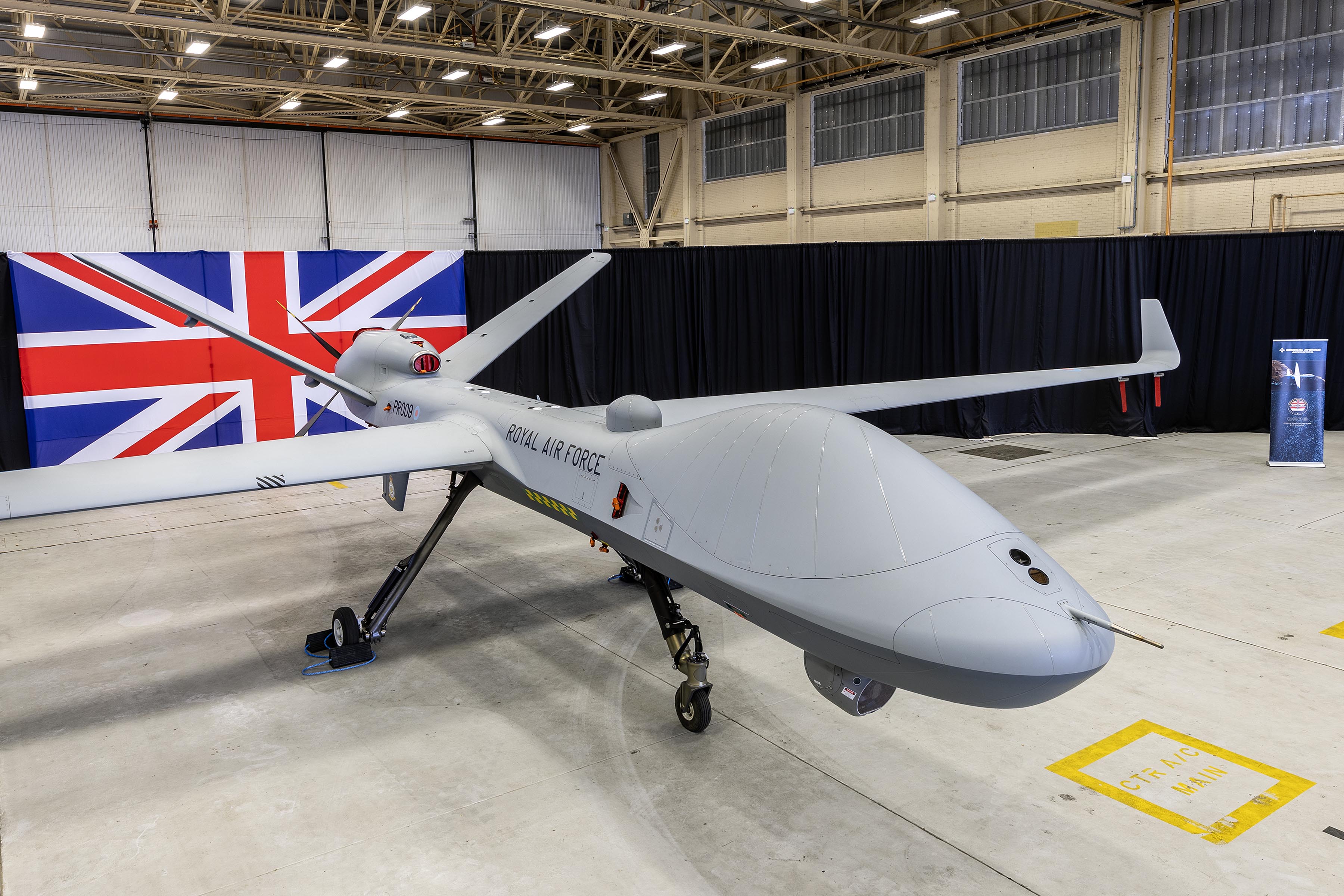 Arriving last month, 31 Squadron have assembled the aircraft and are preparing it for ground and air testing ahead of its anticipated In-Service date later in 2024.

The 31 Squadron, which previously operated the Tornado GR4, will operate and maintain the aircraft at RAF Waddington. The squadron has a long history stretching back to 1915 and have operated multiple aircraft types in the last century. They are exclusively a Protector Squadron now and have been reformed to operate Protector as it enters Service.

Defence Procurement Minister James Cartlidge MP said: "The UK's world-class Protector aircraft will emphasise our ultra-modern surveillance, intelligence, and precision strike capabilities, ensuring we are ready to monitor and protect against potential adversaries around the globe.

"With the first aircraft at RAF Waddington ready to begin trials, we will once again demonstrate how we are spearheading military defence technology."

Head of RPAS DE&S, Simon Holford, said: "The arrival of the first Protector system in the UK is a major milestone for the project. It reflects all of the hard work that everyone involved has put in to reach this stage, and we are immensely proud of our achievements. However, we can't rest on our laurels as there is much more to do. Now assembled, this aircraft will be used to perform initial UK flight trials ahead of progressively delivering the capability to the RAF next year."

The first phase of Protector testing at RAF Waddington will involve ground testing of the satellite links and taxi procedures as well as take-off and landing procedures which will incorporate a circuit above RAF Waddington. Arrival of 15 further aircraft into the UK will be a phased delivery.

RPAS Programme Director, Group Captain Al Rutledge said: "The delivery of initial equipment, ahead of programme schedule, is a culmination of a herculean team effort. We now look forward to the next phase of the programme where we prepare to operate Protector for the first time in UK airspace as part of a graduated build-up to In Service Date in 2024."

In addition to accepting the operational roles currently undertaken by Reaper, which has provided exceptional service on operations around the clock for over 15 years, Protector will be certified to stringent NATO safety and certification standards allowing to operate in the UK and European civilian airspace.

Arrival of 15 further aircraft from General Atomics in the US into the UK will be a phased delivery over the coming years. All aircraft are expected to be delivered by end of 2025.