in Defence / Events
Aussie veteran-led WYWM signs Armed Forces Covenant
WithYouWithMe (WYWM), an Australian tech start-up dedicated to tackling the global digital skills crisis, has signed the Armed Forces Covenant.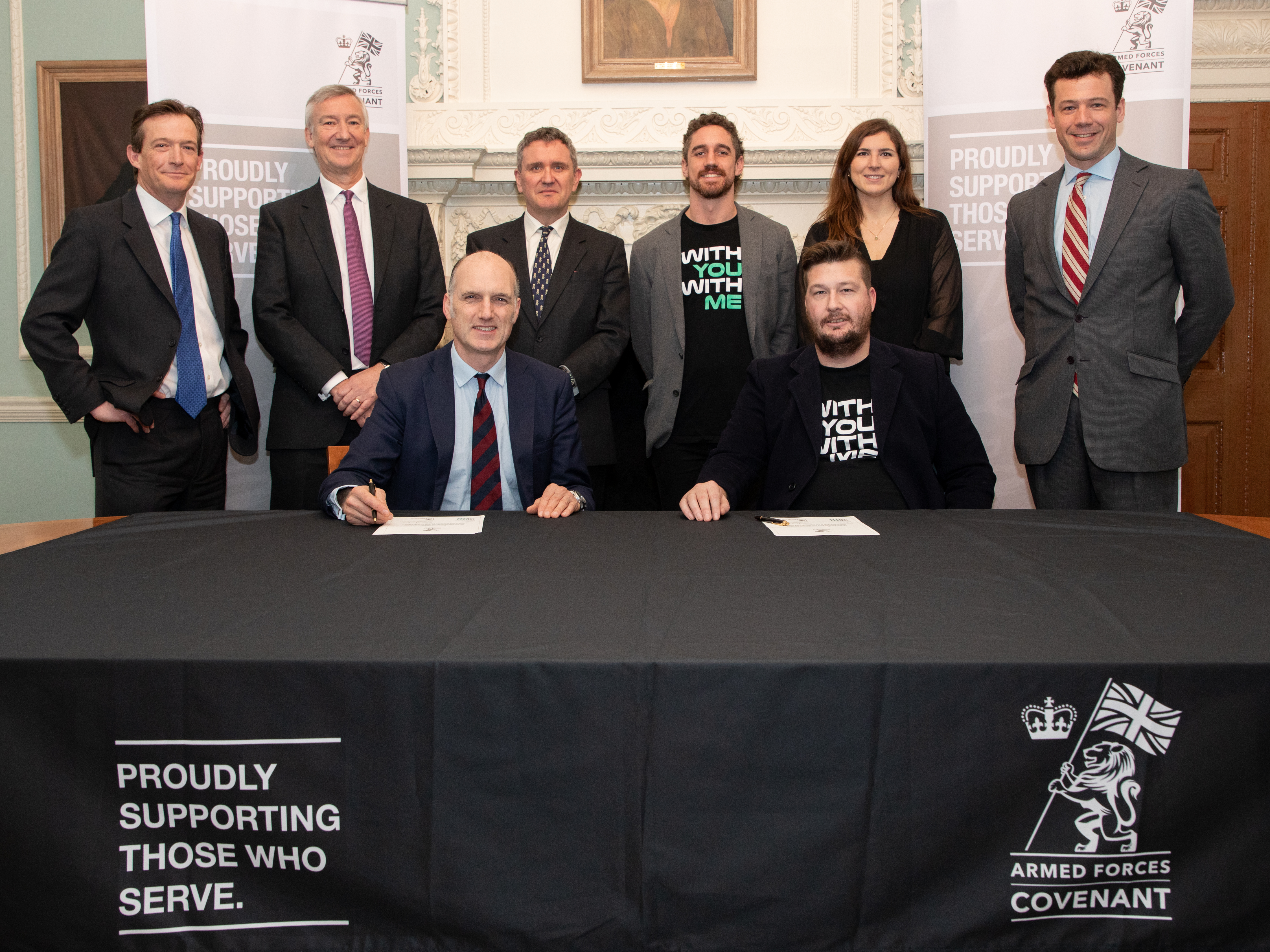 Image courtesy WYWM

Founded by former Australian Army Captain Tom Moore, WYWM is a 'social impact' company that lowers the barriers to entry into tech careers for veterans, military families and other underrepresented groups such as the neurodivergent and refugees.

WYWM was started by Mr Moore when he struggled to find rewarding work after leaving the forces and realised employers failed to see the potential that ex-servicemen and women offer.

Creating a new model for aptitude and attitude testing that identifies people with the ability to thrive in tech-based roles – such as those leaving the forces – and then provides them with free accredited training to get them rapidly proficient, the company has since placed more 20,000 people into work.

WithYouWithMe partners with a broad range of commercial and government organisations to place job seekers into well-paid employment – with particular demand coming from Defence and federal agencies for digitally-proficient veterans.

Leo Docherty, Minister for Defence People and Veterans, said: "Defence is committed to making the UK the best place in the world to be a veteran and we highly value the support of the business community in achieving this.

"As a veteran-led organisation, WithYouWithMe is globally-renowned for their support of the Five Eyes' Armed Forces Community. It was a pleasure to meet with CEO and Founder Tom Moore earlier today and find out more about the impressive work that has gone in to setting up the company.

"Through their provision of free digital skills training and job placements to veterans, military spouses and dependents, the company is providing the UK's Armed Forces Community with meaningful new career opportunities.

"On behalf of Defence, I would like to thank WithYouWithMe for their commitment to our community and this Covenant."

Tom Moore, CEO of WYWM, said: "Our company was founded on the principle of doing the right thing for those who have served their country. It is only right that we now protect those who protected us as they transition into new careers.

"We firmly recognise that the skills developed in the military are invaluable for the civilian workforce – from having the aptitude for high-demand roles like data analytics and cyber security, to soft skills like strong collaboration and problem-solving abilities.

"We're proud to help veterans and their families into the opportunities and employment they deserve after their service."

The signing ceremony at the Ministry of Defence Main Building in London was also attended by Sir James Everard, former NATO Deputy Supreme Allied Commander Europe; Major General Rupert Jones; and, Olly Benzecry, WYWM's UK Chairman.

Commitments provided by WYWM as part of the Covenant include that the company will:
Employ no less than 70% of veterans in its workforce
Campaign to get veteran spouses, partners and dependents trained and into work
Have a dedicated team to support veterans and explore their career opportunities
Support employees in the military reserves
Offer short notice leave to support spouses or partners of a deploying services person where possible
As part of their expansion into the UK, WYWM is also providing free access to £27 million worth of digital skills training places in areas such data analytics, software development and cyber security.

The investment is part of the company making the UK its Northern Hemisphere headquarters as it grows its impact worldwide.