in Aerospace / Security
Award winning nuclear drone team are flying high
Sellafield Ltd's UAV team is celebrating after winning a Nuclear Manufacturing Award and being shortlisted for two Engineering and Manufacturing Awards.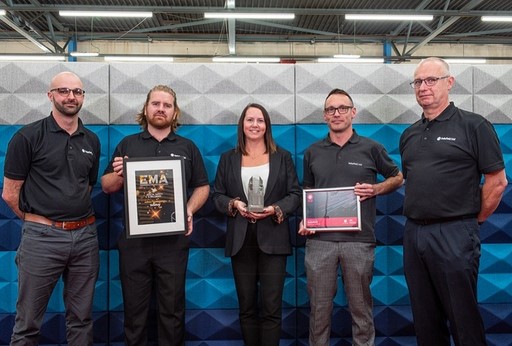 Above: (left to right) Samuel Jay, Luke Henley, Amanda Smith, Niall Paterson and Adrian Johnson, Sellafield Ltd.
Courtesy Sellafield Ltd

The team that manages Sellafield's fleet of Unmanned Aerial Vehicles (UAVs) has been recognised for their work this week after winning an award for innovation at the first ever Nuclear Manufacturing Awards.

Their winning entry demonstrated how the team has worked with partners to introduce UAVs to carry our monitoring and remote inspections on equipment and buildings at Sellafield and other nuclear sites in the UK.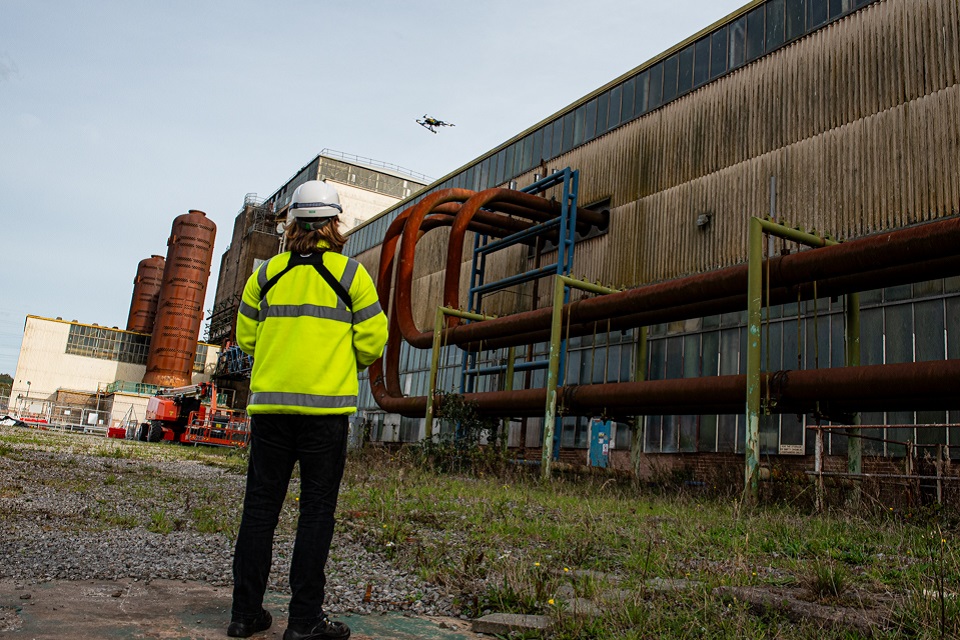 Above: An unmanned aerial vehicle being flown on the Sellafield site.
Courtesy Sellafield Ltd

UAVs remove the need for humans to enter hazardous environments, confined spaces, or to work at dangerous heights; improving safety and delivering results more quickly than was previously possible.

They also provide high quality inspection data, allowing engineers to gather information and make informed decisions more effectively.

This means significant costs savings for the taxpayer. In 2022/23 alone the UAV programme helped avoid costs of over £4 million when compared to traditional inspection methods.

New for 2023, the Nuclear Manufacturing Awards are part of the Nuclear Advanced Manufacturing Research Centre's annual summit that brings together hundreds of manufacturers from across the country with the leaders of the UK's major nuclear programmes.

The team was also shortlisted for two Engineering and Manufacturing Awards in the innovation and health, safety and wellbeing categories recently, receiving a 'highly commended' for their submission to the latter.

Amanda Smith, Sellafield Ltd's UAV equipment programme lead, said: "We're honoured to have won the Nuclear Manufacturing Award for innovation and the recognition this brings for the team.

"UAVs have now become the standard method for remote inspections at Sellafield, showing the lasting impact of these innovative approaches on the culture of our organisation.

"I'm proud to demonstrate how we're helping to make a clean and safe environment for future generations in a safer, faster and cheaper way than was ever thought possible before."

Sara Huntingdon, head of innovation at the Nuclear Decommissioning Authority (NDA), said: "This is a fantastic example highlighting how the nuclear sector is embracing innovation to improve safety and accelerate decommissioning.

"Testing and trialling new approaches, and deploying new technologies which help us deliver our decommissioning mission safely and more effectively is something we actively want to celebrate and encourage – it's is a core part of our innovation strategy.

"The work undertaken at Sellafield by the UAV team, and across the wider NDA Group on remote sensing approaches, recognises the good work of the teams involved and that real progress is being made against our innovation aims – to monitor our buildings remotely by 2025 and to capture data at source by 2030 – as set out in our 'Grand Challenges for Technical Innovation'."