in Defence
BAE Systems showcasing combat vehicles and advanced defence tech at Eurosatory
BAE Systems will display a broad range of capabilities during the Eurosatory defence and security tradeshow in Paris 13th-17th June, including combat vehicles, artillery systems and technologies for precision strike and situational awareness.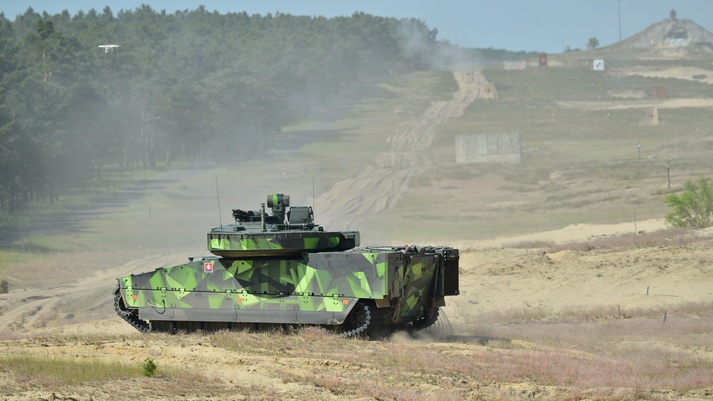 Above: A CV90MKIV in Slovakia in 2021.
Courtesy BAE Systems

The full size vehicles on display outdoors at Eurosatory will be the CV90MkIV infantry fighting vehicle which was recently selected by the Slovakia Ministry of Defence as its preferred system for the procurement of Infantry Fighting Vehicles (IFVs) for the Slovak Army, the ARCHER 155mm mobile howitzer and the BvS10 all-terrain vehicle, along with advanced guided weapon systems and situational awareness technologies.

CV90: The CV90 is combat proven and trusted and exists in more than a dozen variants for different mission sets. It is in use with seven countries and is interoperable with NATO forces. The CV90MkIV is the latest version of the tracked IFV with advanced digitised solutions for situational awareness and targeting, integrated anti-tank guided missiles and Active Protection System for increased survivability.

BvS10: BvS10 is an armored all-terrain vehicle ideal for operations in Arctic and cold weather environments. It can traverse ice, steep mountains, and rocks, and its amphibious capability allows it to swim while operating in some of the most remote areas the planet has to offer. Its modular design allows it to be reconfigured for varying missions. The Swedish Army recently ordered 127 BvS10s and it is also under consideration for the European joint acquisition programme for the Cold Weather All-Terrain Vehicle (CATV) programme. Its sister vehicle, the unarmoured Beowulf, is under consideration for the US Army's CATV programme.

ARCHER: ARCHER is a wheeled mobile 155mm howitzer capable of initiating fire within 30 seconds of receiving an order and can depart its position in the same amount of time, giving it superior 'shoot and scoot' capability by minimising the enemy's ability to effectively return fire. Its automated ammunition magazine stows 21 rounds, and which can be fired in less than three minutes. With guided munitions it can reach targets in excess of 50km.

360 MVP Sensor: The 360 MVP Sensor system improves ground vehicles' situational awareness, reduces crew cognitive load, and integrates easily with other vehicle protection system features – all to enhance crew response time, survivability and mission success. It is comprised of high-definition, extended-view sensors built with BAE Systems' 1920x1200 longwave infrared camera cores, the 360 MVP Sensor system delivers low-latency imagery during the day, at night, in adverse weather, and in challenging natural and manmade battlefield conditions.

Check6: The Check-6 rear-vision system is a camera system for ground vehicles that provides high-quality situational awareness to ground forces. The plug and play system utilises a qualified, uncooled, infrared camera core that is embedded into US Department of Defense taillights. With a universal fit for all US ground vehicles, Check-6 does not require a custom mount or armor holes. This innovative solution provides a streamlined path for vehicle installation that can be accomplished as a field-upgrade kit, allowing for minimal vehicle downtime.

APKWS laser-guidance kit: The APKWS guidance kit transforms an unguided 2.75-inch (70 millimetre) rocket into a precision-guided rocket that gives military aircraft and ground vehicles a low-cost surgical strike capability. In combat, the APKWS system has achieved over a 93% success rate when fired from rotary and fixed wing platforms. APKWS laser-guidance kits are used by four branches of the US military and are available to allied nations for ongoing combat operations via Foreign Military Sales (FMS).