in Defence
Boeing R&D facility in Scotland receives essential kit
A key piece of equipment arrived at the Boeing and National Manufacturing Institute Scotland (NMIS) R&D facility in Glasgow recently, where new manufacturing methods for the aircraft of today and the future are being explored.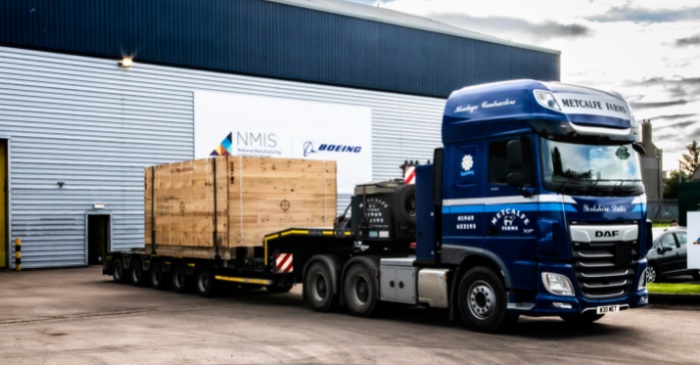 Image courtesy Strathclyde AFRC

Launched last year, the Metallics Research Centre is home to an £11.8 million R&D programme, in collaboration with the University of Strathclyde's Advanced Forming Research Centre (AFRC), part of the National Manufacturing Institute Scotland (NMIS) Group, exploring new manufacturing technologies for metallic components.

Boeing and NMIS have been working with the local supply chain to establish the centre, with early trials proving successful. The recently delivered machinery will play a key role in exploring these new manufacturing methods. The project is supported by £3.5 million of R&D funding from Scottish Enterprise.

The project was the first announced in early 2020 as part of the Boeing Scotland Alliance, an agreement between Boeing and Scottish Enterprise that is exploring opportunities to work together in Scotland, with the aim of doubling Boeing's supply chain and creating 200 new quality jobs in five years.

Sir Martin Donnelly, president of Boeing Europe and managing director of Boeing in the UK and Ireland, said: "The opening of the Metallics Research Centre was a key milestone for Boeing as the first project announced as part of the Boeing Scotland Alliance, cementing our commitment to the future of advanced manufacturing and the aerospace sector in Scotland.
"The arrival of this equipment is the next big step, achieved through some great teamwork with our Scottish friends. Based alongside key partners within Scotland's manufacturing innovation hub, the centre is in an optimum position to explore new technology that will help improve safety, productivity and the sustainability of aviation."

Professor Keith Ridgway CBE, Executive Chair of the NMIS Group, said: "At the National Manufacturing Institute Scotland, we're advancing innovation within the manufacturing community to secure Scotland's place at the forefront of industry by collaborating with industry partners, public sector and academia.

"Working side by side with Boeing, we're undertaking an ambitious research and development programme aiming to transform aviation and beyond. The delivery of this new equipment marks a significant milestone in the programme of work and will drive the project further with gusto, with the two teams working together every day exploring and pushing the boundaries of manufacturing technologies."