in Aerospace / Defence / Events
Captain Tom becomes Cranfield University honorary graduate
Cranfield University in Bedfordshire has recognised Captain Tom Moore for his services to the local community and the country by awarding him an Honorary Doctor of Science in its 2020 graduation celebrations.
Captain Tom is a former British Army officer known for his achievements in raising over £30 million for NHS charities in the run-up to his 100th birthday during the current pandemic.

Baroness Young of Old Scone, Chancellor of Cranfield University, and Sir Peter Gregson, Vice-Chancellor, presented Captain Tom with the honorary degree during a video call.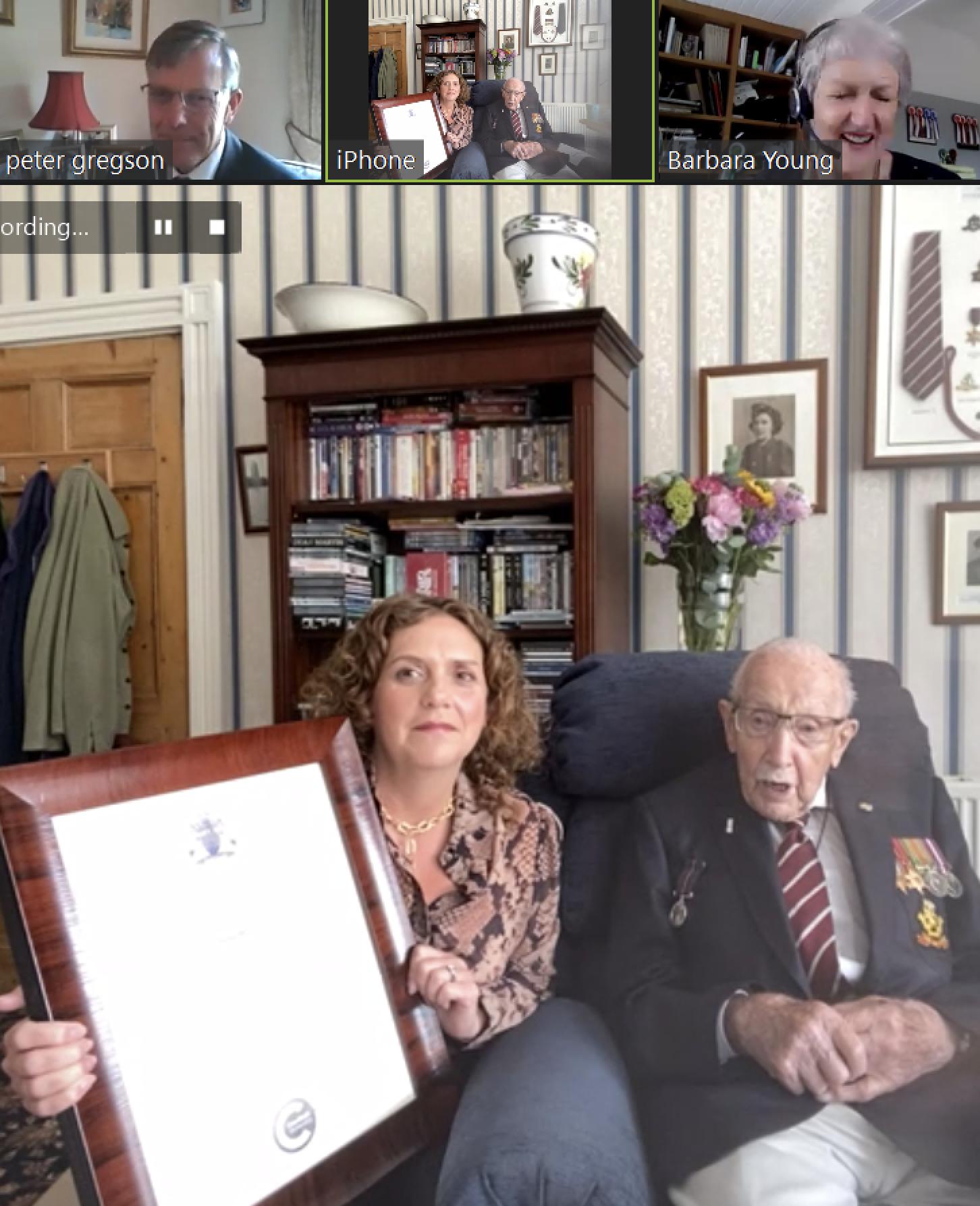 Above: Captain Tom and his daughter Hannah Ingram-Moore with Professor Sir Peter Gregson, Vice-Chancellor of Cranfield University and Baroness Young of Old Scone, Chancellor of Cranfield University during the online ceremony.
Image courtesy Cranfield University

Captain Tom said: "This is something very special for me. I have heard so much about Cranfield and I am pleased we are both putting Bedfordshire on the map."

Baroness Young of Old Scone, Chancellor of Cranfield University, said: "It is an honour to bestow a Cranfield honorary degree on Captain Tom. He is an inspiration to us all, and to future generations, of what can be achieved when you rise to a challenge."

Professor Sir Peter Gregson, Vice-Chancellor and Chief Executive of Cranfield University, added: "Captain Tom's now well-known saying 'tomorrow will be a good day' echoes our own University's motto from our RAF background 'after clouds, light'. As we celebrate the achievements of our students, they have a shining example in Captain Tom as they set forward and make their own contribution to the world."

"Over the last few months, we have seen the strength of our Cranfield community, whether that is among our students and staff, our global alumni network or in our relationships with business. In honouring Captain Tom, we mark another important part of that community here in Bedfordshire and the wider region."

Cranfield University's airport played a key role in a special flypast by the Battle of Britain Memorial Flight, to celebrate Captain Tom Moore's 100th birthday on Thursday 30th April. Cranfield's air traffic control staff controlled the flight using the airport's state-of-the-art Digital Air Traffic Control Centre and let the aircraft crews use its frequency to wish Captain Tom a happy birthday, live from the cockpit as the Hurricane and Spitfire flypast took place over his home.

This year, Cranfield University's graduation will, for the first time, be hosted online, when nearly 2,000 invited graduates from over 100 countries will be joining the virtual celebrations on 25th and 26th June.

To watch the events taking place, visit www.cranfield.ac.uk