in Defence / Events
DE&S Robotic Dog welcomes experimental ship into Royal Navy
The Royal Navy have unveiled a new testbed ship – the XV Patrick Blackett – to support trials of autonomous systems at sea, which was named at a ceremony attended by the Defence Equipment and Support (DE&S) Future Capability Group (FCG), ably assisted by their robotic dog SPOT.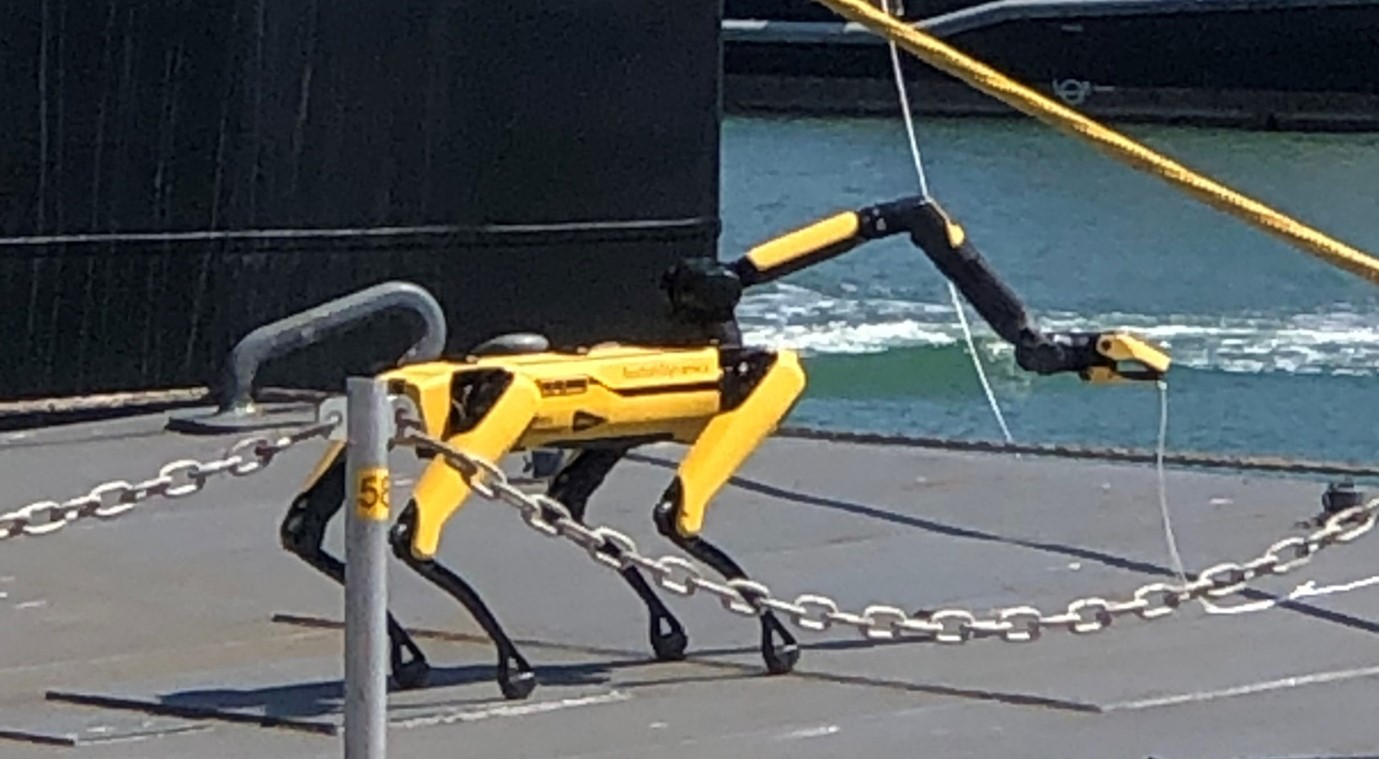 Above: The DE&S FCG and SPOT robotic dog assisted the unveiling of the new vessel.
Courtesy DE&S

Weighing in at 270-tonnes, the new Damen 4008 Fast Crew Supply ship will enable NavyX to carry out sea trials, enhance operations and ensure the UK remains at the leading edge of naval warfare.

The Defence Equipment and Support (DE&S) Future Capability Group (FCG) attended the naming ceremony in Portsmouth last week, accompanied by its SPOT robotic dog, who recently made the headlines after DE&S hosted a Robot Dog Olympics at MoD Abbeywood.

Working alongside the frontline commands, such as NavyX, the FCG acquire and explore cutting-edge technology to enhance the capabilities of our armed forces. FCG are trailing both Boston Dynamics and Ghost Robotics Robot Dogs for and with the Front Line Commands in a number of use-case areas.

The robotic dog was invited along to assist the unveiling of the new vessel, pulling a cord to release a bottle and smash it against the hull of the ship. This is a traditional naval welcoming ceremony, wishing a new ship fair winds and following seas. Now updated to symbolise the importance of autonomous systems in the modern military.

James Gavin, Head of the DE&S Future Capability Group, said: "The XV Patrick Blackett is a fantastic addition to the Royal Navy fleet, and its rapid acquisition by NavyX is a real accomplishment. It is hoped that this advancement will enable closer collaboration with the DE&S Future Capability Group and NavyX."

"This impressive vessel has the potential to be upgraded and to work with autonomous systems – such as the ones the Future Capability Group are exploring right now with the Royal Navy. This includes the Heavy Lift Challenge 2, where we are looking to supplement the use of helicopters with UAS (Uncrewed Arial Vehicles)."

"The ship may give us new avenues of exploration, to accelerate the development of the latest military technology and deliver innovation to the frontlines."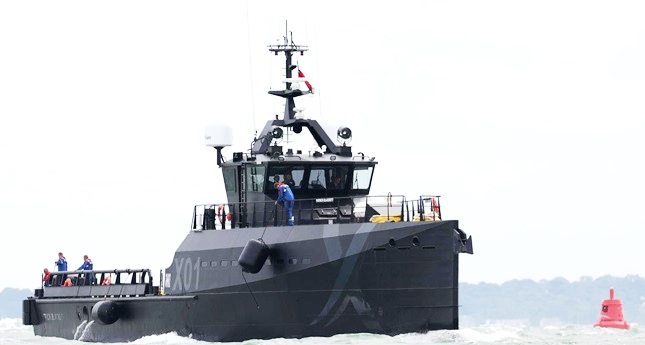 Image courtesy Royal Navy

The Royal Navy vessel, XV – Experimental Vessel – Patrick Blackett (above), has been named after Nobel Prize winner, physicist and former Royal Navy sailor, Patrick Blackett.