in Space
Metahelios to represent Scotland as Start Up Loans Ambassador
Glasgow based Metahelios, a specialist in advanced camera technology for space, is among 12 businesses announced today as Ambassadors of the Start Up Loans programme, part of the British Business Bank.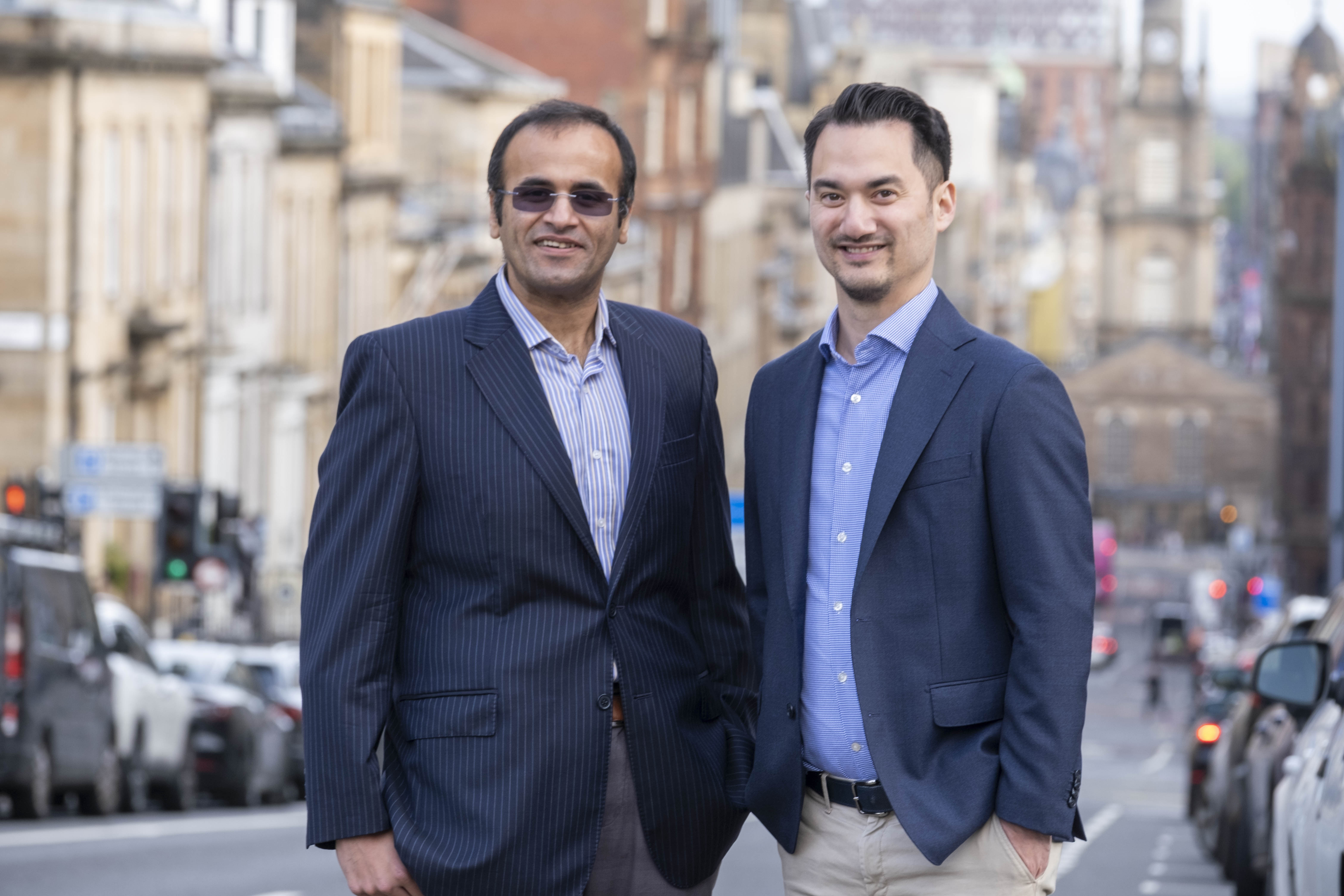 Above: (left to right) Dr Yash Shah and Dr Charles Altuzarra, founders of Metahelios based in Glasgow, have been announced as Scottish Ambassadors.
Courtesy Metahelios

The programme has delivered more than £63 million of loans to 6,900 Scottish start-ups, at an average value of £9,211. Two such recipients of these loans are physicists Charles Altuzarra and Yash Shah, founders of Metahelios, who each received a £25,000 loan in July 2022 to kickstart their business.

The entrepreneurs have created a first-of-its-kind, long-distance camera that can manipulate light to distinguish between a range of materials from a still image. They are aiming to deploy the technology into space on a rocket from one of the UK's spaceport sites, capturing data via a satellite that can be used to monitor climate change and orbiting space debris.

According to a report by Lux Research, the global market for metasurface technology could reach $10.7 billion by 2030, with sensing accounting for $5.5 billion of that figure.

Charles Altuzarra, Founder, Metahelios said: "We're making significant progress in taking our cameras to the next stage and proving the capabilities of our technology – and we're currently in the process of raising equity funding. The advice we've received from some of the industry's biggest names has been nothing short of inspiring, and we've got ambitious plans to be at the forefront of the UK's space race.

"The loans Yash and I received were instrumental, as they allowed us to invest in manufacturing and testing prototypes. We wouldn't be where we are today without the initial support we received through the Start Up Loans programme, and we hope the British Business Bank continues to invest in space start-ups which are working to deliver a range of benefits to our planet."

The annual Start Up Loans Ambassadors programme, now in its eighth year, celebrates exceptional business owners, like Charles and Yash, who have launched an enterprise using funding from the government-backed scheme.

Drawn from each of the UK's 12 Nations and regions, the 2023/24 Start Up Loans Ambassadors reflect the broad diversity of sectors and business owners supported via the programme. More details of the businesses selected from Scotland, England, Wales and Northern Ireland's regions can be found further below.

Metahelios and the other 2023/24 Ambassadors will be introduced at a launch event in central London that kick-starts a year-long programme which will see the new Ambassadors take part in a series of local and national activities, helping inspire and encourage aspiring start-up founders to take the leap into business ownership.

Susan Nightingale, Devolved Nations Director, UK Network at the British Business Bank, said: "Scotland's aerospace scene is booming, and it's brilliant to see forward-thinking start-ups like Metahelios bringing cutting-edge technology to the market. I'm thrilled to welcome Charles and Yash and congratulate them on their roles as Ambassadors, and I look forward to working with them over the coming year to inspire others thinking of embarking on their own entrepreneurial journey."

Lord Malcolm Offord, UK Government Minister for Scotland and Exports, added: "It's great to see pioneers such as Charles and Yash being appointed as Start Up Loan Ambassadors for Scotland. Their story is the perfect example of what a huge difference this funding can make to businesses looking to get off the ground. With their help we can encourage other entrepreneurs to use the Start Up Loan programme to give their businesses a kick-start."

Since its inception in 2012, the Start Up Loan programme has delivered more than 105,000 loans to business owners across the UK, amounting to more than £1bn of funding. Of those loans, 40% of loan recipients have been women and 20% from Black, Asian, and Other Minority Ethnic backgrounds (not including White Minorities).

Regional breakdown of loans since 2012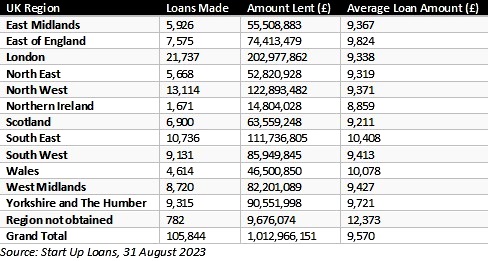 Through a network of business support partner organisations, the Start Up Loans programme provides access to pre-and-post loan support to help applicants to develop a business plan; fixed-interest first and second loans of up to £25,000 to start or grow their business; as well as mentoring support to help loan recipients with everything from cash flow to marketing.