in Aerospace
Rolls-Royce BR725 engine tops one million flying hours
The Rolls-Royce BR725 engine recently achieved another impressive milestone by reaching one million flying hours.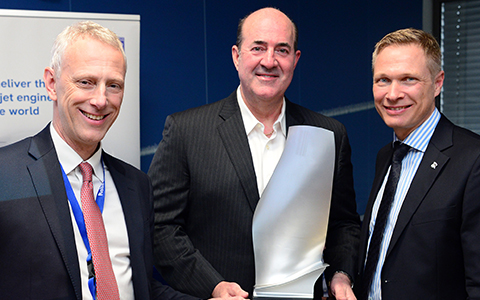 Above: Mark Burns (middle), President, Gulfstream Aerospace Corp., receives a BR725 fan blade as a gift from Chris Cholerton (left), President - Civil Aerospace, Rolls-Royce, and Dr. Dirk Geisinger (right), Director - Business Aviation, to commemorate the milestone of one million engine flying hours of the BR725 fleet.
Courtesy Rolls-Royce

The engine, powering Gulfstream's ultra-long-range G650 business aircraft family, has established a reputation for reliability, speed and outstanding environmental performance.

The performance of the BR725 enabled the Gulfstream G650ER and its sister aircraft G650 to fly faster and further than any other ultra-long-range corporate aircraft has before. Since entry into service in 2012, the aircraft has achieved more than 100 city pair records, among those the farthest fastest flight in business aviation history from Singapore to Tucson, Arizona. There are more than 800 BR725 engines in service today, with many of these supported by Rolls-Royce's CorporateCare and CorporateCare Enhanced.

The BR725-powered G650 family can fly up to 7,500 nm/13,890 km at Mach 0.85 and 6,400 nm/11,853 km at Mach 0.90. The G650 and the G650ER are capable of a near-supersonic maximum operating speed of Mach 0.925 and have a maximum cruise altitude of 51,000 feet/15,545 metres.

Nuno Taborda, Programme Director Business Aviation, Rolls-Royce, said: "Seeing the BR725 reach one million flying hours is an impressive milestone and we are very proud of this achievement. With one speed record after another broken by the G650, it sets the standard for performance in business aviation – you simply can't fly farther faster. All this comes with superb levels of availability and reliability, powering the BR725 into a class of its own."

Rolls-Royce has more than 3,200 Rolls-Royce powered business jets in service worldwide and over 2,000 of those aircraft are covered by CorporateCare and CorporateCare Enhanced (and about 70% of new delivery Rolls-Royce powered aircraft are enrolled in the programme).

CorporateCare Enhanced, the comprehensive, fixed-cost engine maintenance management plan, provides customers with a global support infrastructure which includes: Engine Health Monitoring, a worldwide network of Authorised Service Centres and globally distributed spare parts and engines, all managed by our dedicated 24/7 Business Aircraft Availability Centre.

CorporateCare Enhanced offers substantial financial and operational benefits to customers, such as increased asset value and liquidity, mitigating maintenance cost risk and protection against unforeseen costs and unscheduled events anywhere in the world. Increased aircraft availability, reduced management burden, full risk transfer, direct priority access to the Rolls-Royce services infrastructure and remote site assistance, provide additional benefits.