in Defence
Serco marks contract extension with 40th anniversary RAF Chinook tail re-paint
Serco has been awarded a contract extension to continue supporting the Royal Air Force (RAF) with its specialist Surface Finish aircraft painting expertise for another three years.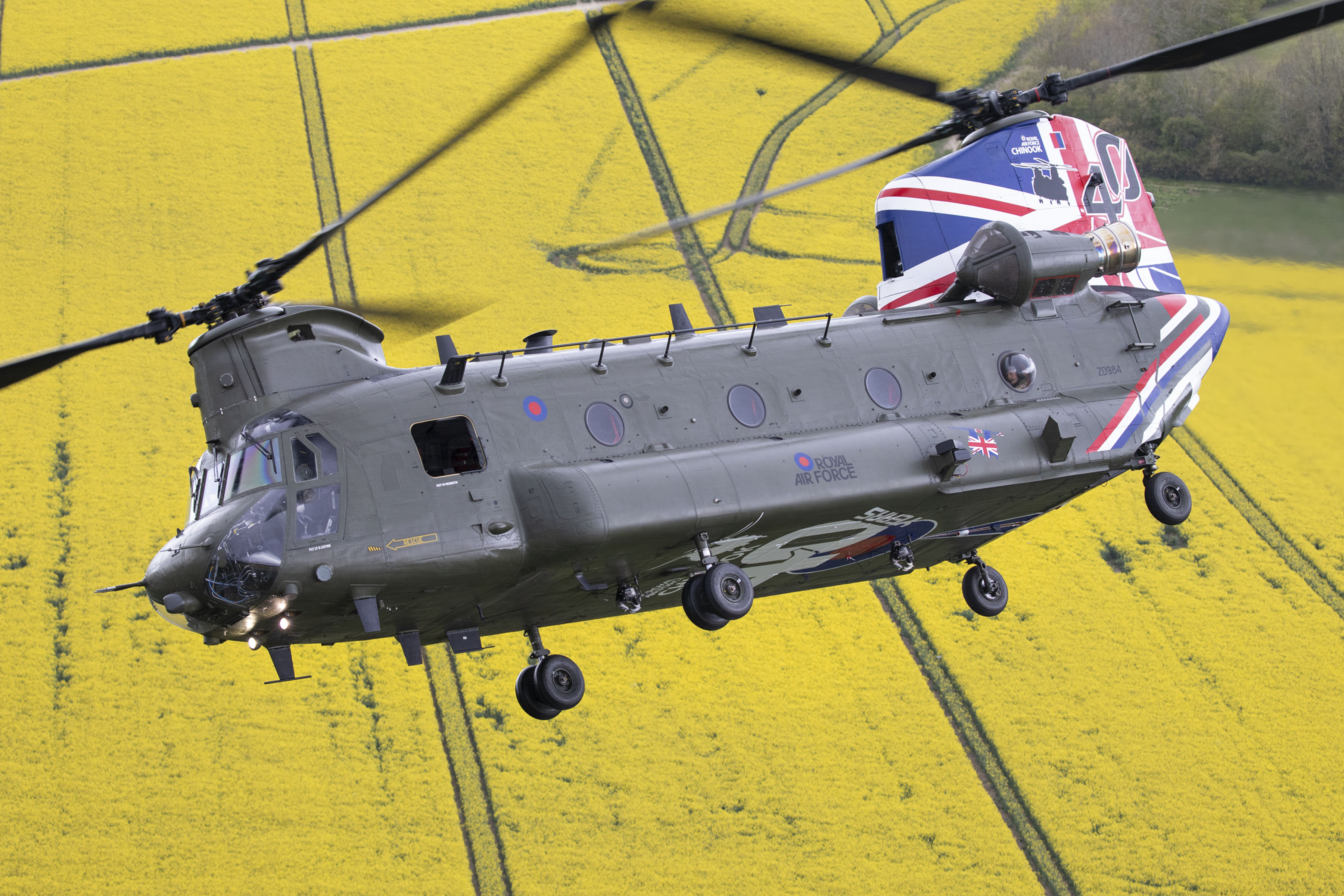 Above: Royal Air Force Odiham is celebrating the 40th anniversary of the Chinook helicopter entering RAF service with a commemorative new colour scheme. The tail art was unveiled yesterday (5th May) as the aircraft departed RAF Odiham on a routine training sortie.
Courtesy Serco / SAC Laura Wing RAF / © UK MoD Crown Copyright 2021

The contract started on 1st April 2021 and is valued at £15 million.

To coincide with the contract award, Serco's Surface Finish teams based at RAF Odiham and RAF Marham have recently prepared and re-painted the tail of one of the RAF's Chinook helicopters to celebrate the 40th anniversary of the Chinook entering service with the RAF. This helicopter will be part of the national celebration during the 2021 display season.

The special livery was designed by a Chinook pilot from RAF Odiham. The Serco team based at RAF Marham used specialist software to produce a masking outline of the final design which was then applied to the Chinook helicopter's tail. Over several weeks, the team at RAF Odiham took approximately 300 hours to prepare the tail surface of the helicopter, apply the masking, and spray paint on the design.

Paul McCarter, Managing Director of Serco's Defence business, said: "We are delighted to be continuing to provide this vital service to the RAF for a further three years. Our Surface Finish teams operates at RAF bases across the UK where they work hard and provide a superb service to help keep the RAF's fleet flying.

"I am particularly proud of the expertise the Surface Finish teams have contributed towards the celebration of the 40th anniversary of the Chinook entering service with the RAF."

Serco's Surface Finish team are experienced aircraft painters and have been providing specialised military aerospace re-finishing for the RAF since 2009. The team has previously supported the RAF with special projects including the RAF 100th anniversary celebrations for 18, 27 and 28 Squadron.