in Defence
Serco to continue providing HMAS Watson training services
Serco has been awarded a contract to continue providing high-quality simulator-based maritime warfare training and training support services on behalf of the Royal Australian Navy at HMAS Watson, Sydney.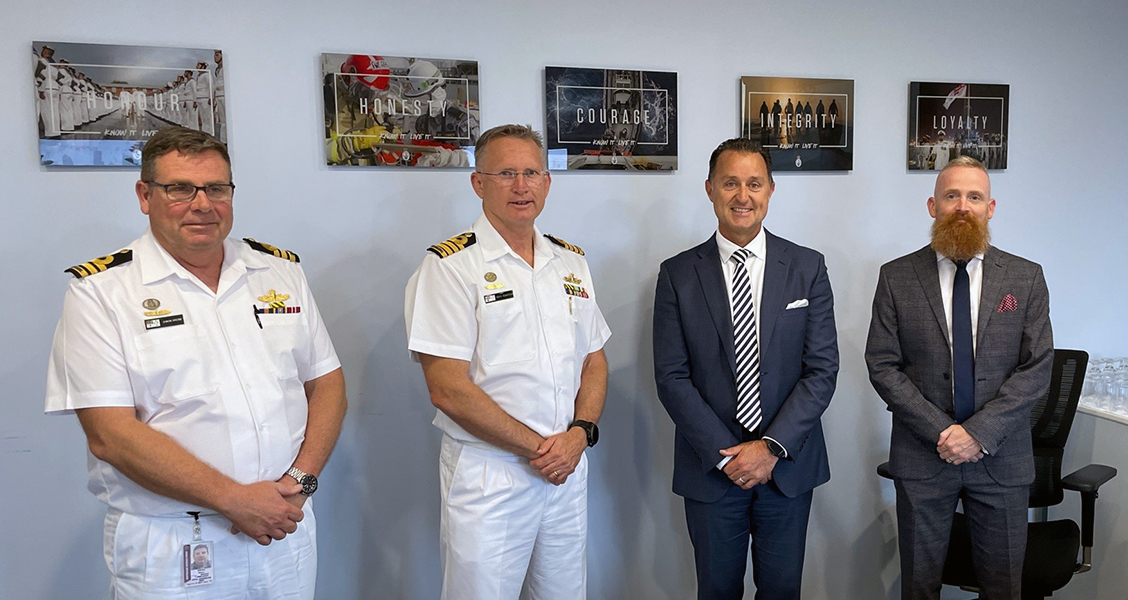 Above: (left to right) CDR Simon Gregg RAN, Head of Command and Navigation, CAPT Heath Robertson CSC, ADC, RAN, Director Training Authority Maritime, Serco Asia Pacific CEO Peter Welling and Serco Watson Contracts Director Terry Skinsley.
Courtesy Serco

Through the operation and maintenance of the Navy's Bridge Simulators, Serco has been training young Maritime Warfare Officers in ship operations, bridge operations and navigation in a simulated war fighting environment since 2012. Serco has also been providing maintenance and engineering design services to the Training Authority Maritime Warfare at Watson since 2003.

The new two-and-a-half-year contract, won by Serco after a competitive tender process, also has three, one-year extension options, which if exercised will take the contract through until 2026. The value of the contract is AUD $48.2m.

Serco Defence Managing Director Clint Thomas AM, CSC, said Serco's proven track record of delivering these highquality services for more than eight years has resulted in a strong partnership with Navy.

"We have a deep understanding of Navy's training requirements, program challenges and future training developments, and our solutions are designed to deliver the best possible outcomes and prepare Navy personnel for the demanding scenarios they will face in their careers."

"This new contract demonstrates the confidence Navy has in Serco to deliver significant innovation and continuous improvements to the training provided, that ultimately allows the Australian Defence Force's Maritime Community to fight and win at sea," Mr Thomas said.

Serco Defence HMAS Watson training team members are all former service men and women who have served with the Royal Australian Navy, the Royal New Zealand Navy or the Royal Navy. Their collective experience and enthusiasm for delivering premier training, mentoring and support to Maritime Warfare Officer Course (MWOC) students, and forward-leaning innovation ensures Maritime Warfare Officers graduate with the mission critical skills needed for a successful career at sea.