in Aerospace
Arrow Aviation becomes latest Rolls-Royce FIRST network AMROC
Rolls-Royce has announced Arrow Aviation as the newest FIRST network Authorised Maintenance Repair & Overhaul Center (AMROC).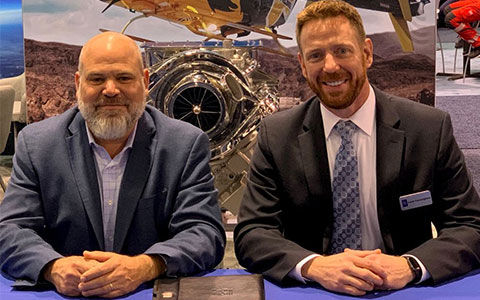 Above: David Guidry (left), General Manager, Arrow Aviation and Scott Cunningham, Rolls-Royce Director of Helicopter Services at the 2020 HeliExpo Conference in Anaheim, California.
Courtesy Rolls-Royce

Headquartered in Broussard, Louisiana, Arrow Aviation will provide certified MRO services for M250 and RR300 engine customers.

Previously, as a Rolls-Royce M250 Authorised Maintenance Center, Arrow Aviation provided comprehensive in-house component repair reworks capabilities to customers worldwide. As a new AMROC member, the team will add overhaul capabilities to their portfolio of certified services.

"Arrow's ongoing commitment to investment and expansion in capability is something we're all very proud of," explains David Guidry, General Manager, Arrow Aviation. "Our expansion to the AMROC capability demonstrates our focus on supporting all of our client's requirements in quality, cost, and delivery".

With more than 16,000 turboshaft and turboprop engines in service and 4,500 customers worldwide, the Rolls-Royce FIRST network provides M250 and RR300 operators a global network of authorized MRO service centers. The FIRST network includes more than 30 approved, licensed service centers, and its competitive structure means operators can find affordable and reliable service anywhere for Rolls-Royce M250 or RR300 engines.

"We congratulate Arrow Aviation for making the investment to transition to an AMROC member," said Scott Cunningham, Rolls-Royce Director of Helicopter Services. "Their dedication to customer satisfaction and quality service will be an outstanding addition to the team."

The Rolls-Royce M250 and RR300 engines have powered more than 260 million flight hours and more than 33,000 of these engines have been delivered to the marketplace.