in Aerospace
IBA data shows overall global aviation CO2 emissions down
IBA has today revealed its latest monthly Aviation Carbon Emissions Index in association with KPMG.
The commercial aviation industry averaged emissions of 144.314 grams of CO2 per-seat per-mile this month, with overall efficiency improving by 0.1%, according to data from IBA's Carbon Emissions Calculator. This is over 5% down on its 2020 peak and represents a continued trend on recorded changes in the past releases of this Index, showcasing the industry's clear efforts to drive down overall emissions.




Image courtesy IBA

Top 5 commercial aircraft CO2 emissions
The Boeing 737-800 aircraft retains is position as delivering the highest share of CO2 emissions, though its share has fallen by 1.8% in the past month. This is a result of a significant increase in emissions share for the Boeing 777-300ER, which increased by 5.6% in November. Overall flight volumes for the 777-300ER reduced around 5% in this period, but average sector length increased by around 6% (with the average emissions per flight increasing by a similar amount).

Other significant movers include the Airbus A320-200neo, which saw flight volumes increase by 2.1% as 22 of these aircraft were delivered in October, increasing its emissions share by 1%.

As British Airways and Qantas return the A380 to service, IBA expect to see its emissions figure grow beyond the type's current 1.5% emissions share.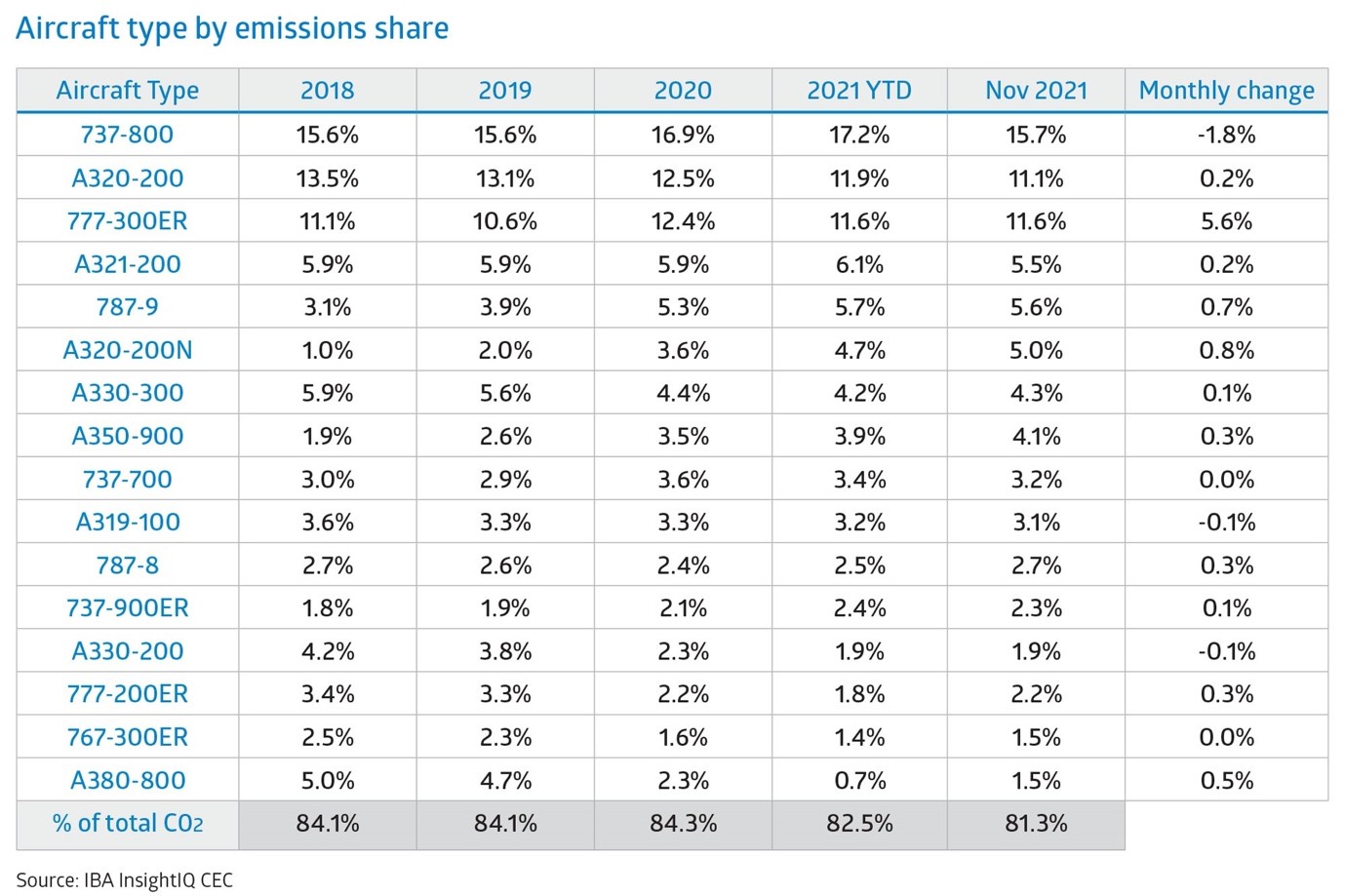 Most efficient aircraft lessor fleets
When examining lessor fleets through the lens of CO2 per-seat per-mile, Jackson Square Aviation and Air Lease Corporation are at the top of this month's ranking with the lowest levels.

IBA anticipates these figures will continue to improve over the coming years as more orders are fulfilled by OEMs and more new generation aircraft are delivered to airlines. The overall share in emissions attributable to lessors has increased by around 0.01% in line with increased lessor activity in the market.



Airline emissions efficiency
Scoot sits at the top of IBA's airline efficiency ranking this month, based on CO2 emissions per-seat per-mile. The airline climbed the rankings in 2021 due to a large portion of its Airbus A320-200ceo fleet being stored in 2020. The average age of their stored A320ceo fleet is 9.7 years - which is young for the type. Scoot's position in the ranking is bolstered by the remaining fleet make-up, comprising high-density dual class Boeing 787-8, 787-9s and single class Airbus A320-200neo aircraft, with an overall average age of 5.7 years.

Wizz Air UK also ranks promisingly this month. Whilst its fleet consists largely of A321-200ceo aircraft, these are fitted with the comparatively efficient IAE V2533-A5 SelectOne engine, and are late-delivery examples with an average age of just 3.1 years old.

Another noteworthy development is a three-fold increase in utilisation at Sunwing Airlines in the latter half of 2021, with the operator benefitting from the Boeing 737 MAX 8 entering the fleet and taking up a growing share of flights through November and into December.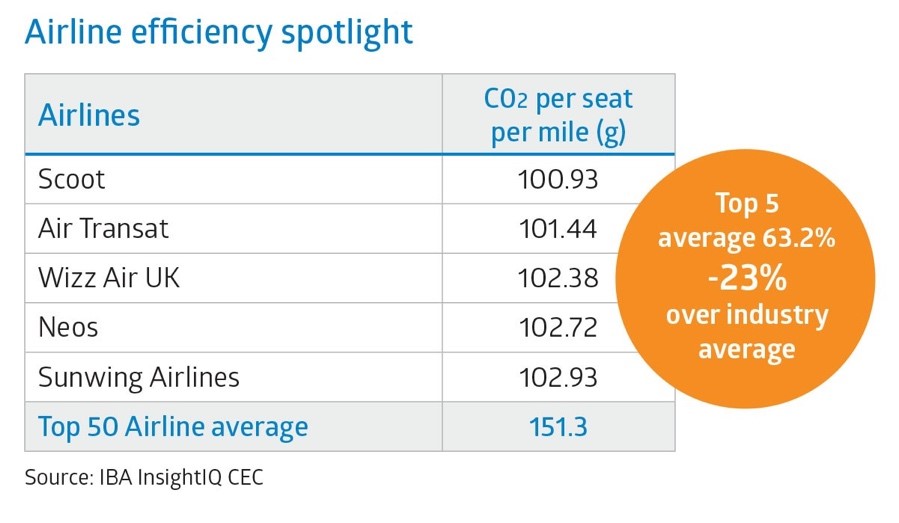 ABS Efficiency Spotlight (ABS Index 2020 vs 2021 YTD)
This month, IBA is also highlighting the top 25 ABS (asset backed security) structures in terms of aircraft efficiency, measured by CO2 per-seat per-mile from the start of 2020 to the 2021 year to date.

Within pre-pandemic ABS structures, IBA did not typically see younger aircraft asset types represented. Assets were usually around six-eight years old when they entered portfolios, and so will inherently have higher per seat emissions figures than the newer aircraft due to the generational change in efficiency.

The best performer within the ABS efficiency ranking is SLAM 20211 Limited, which consists of a blend of eight Airbus A321-200neos, three Boeing 737-900ERs and one Airbus A330-900. The composition of aircraft within this ABS lends itself towards a good efficiency rating based upon a majority of the A321-200 NEOs being in a high-density single class configuration. SLAM 2021-1 Limited, among other ABS' in 2021, have followed a traditional composition of mainly narrowbodies vs widebodies but have bucked the trend with an overall average aircraft age of 2.4 years old; much younger than previous ABS'.

Further down the ranking, IBA notes there are ABS' that follow a more typical trend of asset composition, such as Sapphire Aviation Finance II Limited, with an average asset age of 10.4 years old. This ABS consists of aircraft mostly operating with Eastern European and Russian operators, and benefits from A330ceo aircraft with high density dual class layouts, helping drive upwards the overall efficiency rating on the portfolio.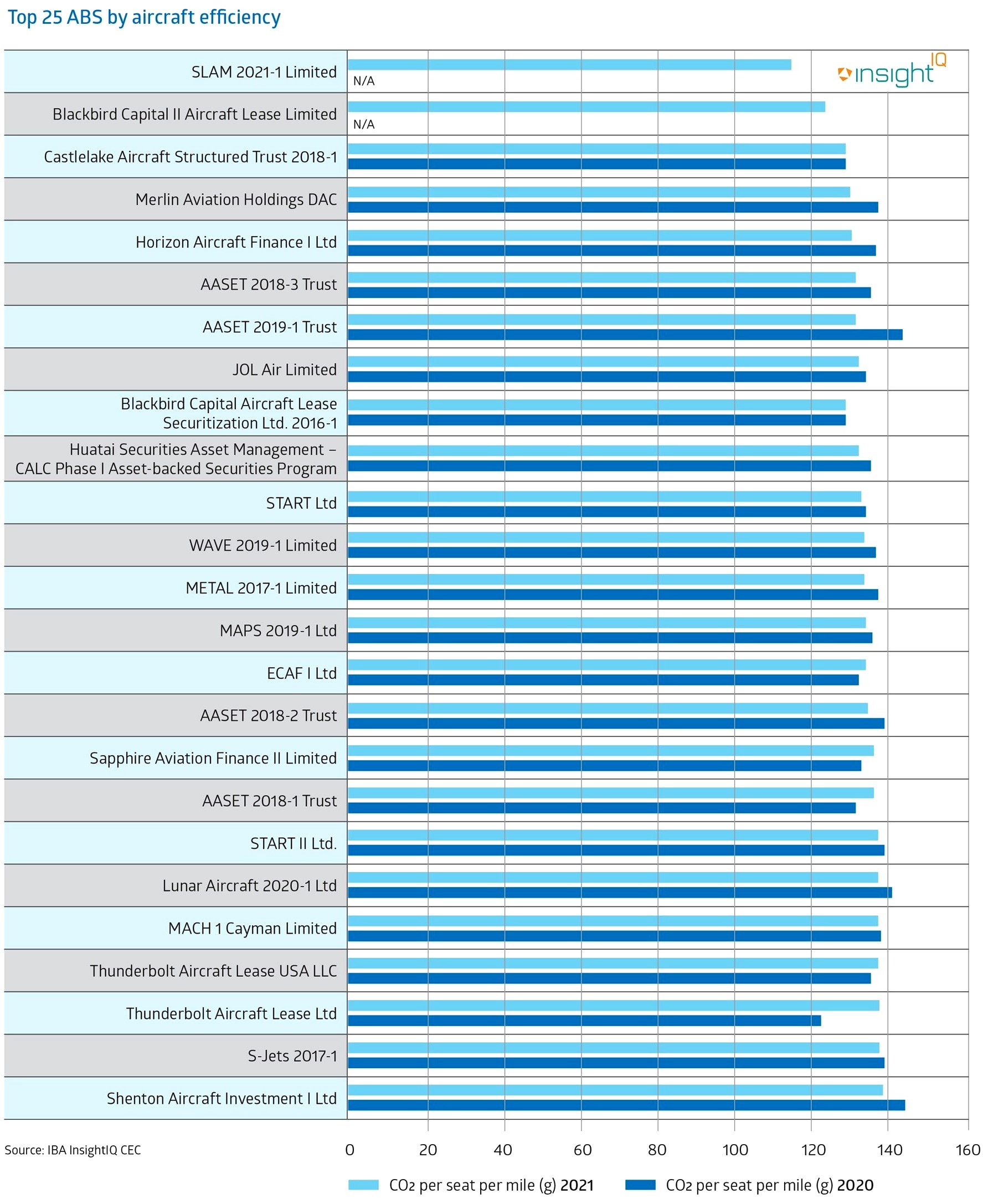 Patrick Murphy, Associate Director at KMPG, acknowledges why this information in this month's Index is important and how it relates to aircraft lessors:

"Any effective corporate climate change strategy requires a detailed understanding of your greenhouse gas (GHG) emissions. The leading lessors now understand the need to also account for GHG emissions associated with their asset portfolios to comprehensively manage GHG-related risks and opportunities, which falls into scope 3 of the GHG protocol."

"The Scope 3 Standard recommends that companies identify which scope 3 activities are expected to have the most significant GHG emissions, offer the most significant GHG reduction opportunities, and are most relevant to the company's business goals."