in Aerospace
Loganair fleet refurbishment targets sustainability
Loganair has begun a multimillion-pound refurbishment of its Embraer 145 jets that will future proof the fleet and help the airline to meet its sustainability goals.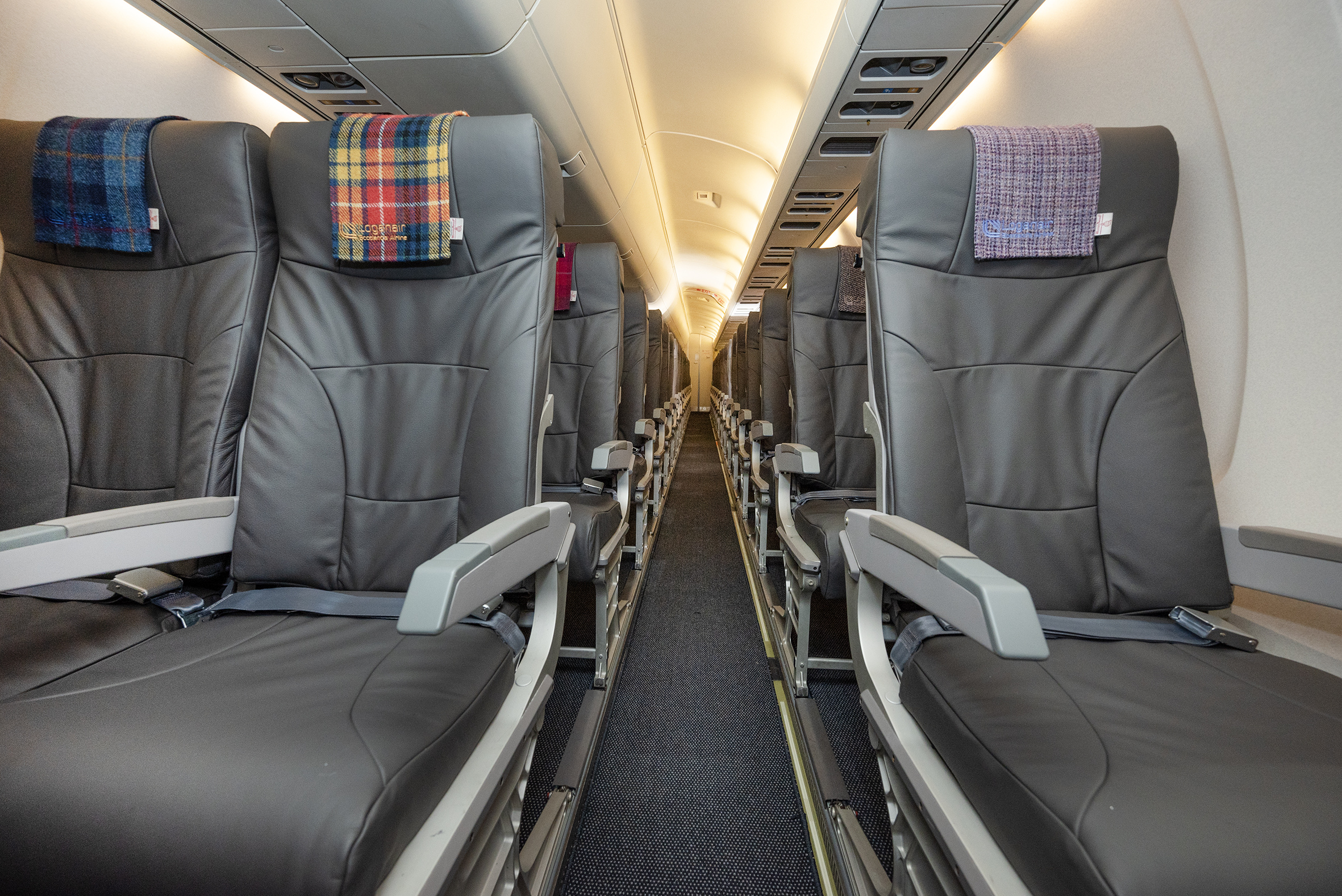 Image courtesy Loganair

The UK's largest regional airline has completed the first jet in the refurbishment programme, which enters service this week. The remaining 12 Embraer 145s in Loganair's fleet will be completed over the coming months. The refurbishment includes upgrading the Embraer 145 aircraft with new navigational systems to fly as efficiently as possible.

The fleet is already at the forefront of Loganair's commitment to tackling the environmental impact of flying after being fitted with cutting-edge FLYHT-WVSS-II atmospheric water vapour sensors to measure weather data for the Met Office.

The sensors will routinely monitor environmental conditions around the aircraft during flight and could help increase understanding of the non-CO2 effects of aviation, which are estimated to contribute to around 48% of the environmental impact of flying.

The fleet's cabins have also had a makeover which will further boost the aircraft's sustainability credentials after their seats were upholstered in the world's lowest carbon leather supplied by Muirhead, in Paisley, Scotland. Muirhead can trace its roots back more than 180 years and is the global market leader in supplying the aviation sector with sustainable, high performance leather.

The deep, charcoal grey colour of the seating is offset by bright and stylish headrests in Harris Tweed, reflecting the airline's intrinsic connection to Scotland's Highlands and Islands. Only cloth handwoven by islanders in their homes in the Outer Hebrides from pure virgin wool dyed and spun in the Outer Hebrides can be certified as Harris Tweed.

New seatbelts and pockets have been added to continue the high-quality experience for customers, while upgraded lighting creates a brighter and airier atmosphere within the cabin.

Loganair chief executive Jonathan Hinkles said: "We have been planning the refit of our Embraer 145s for some time now and we are extremely proud to be introducing the first of them into service. It looks fantastic, and I can't wait for our customers to experience their first journeys in them as we continue with the roll out of the refurbishment programme.

"Importantly, they don't just look good – they are also doing good. They feature the world's lowest carbon leather and new flight management systems that will enable us to operate as efficiently as possible, reducing our consumption of fuel. They also carry sensor equipment that could improve the accuracy of weather forecasts and reduce flight emissions, expanding the work of our pioneering GreenSkies environmental programme."

Douglas Cameron, Europe aviation sales manager, Muirhead, said: "As the leading manufacturer of high performance leather for aviation, we are delighted to support Loganair's continued expansion. With both companies based in Scotland and sharing key values, Muirhead's lowest-carbon leather products are a natural choice for the airline. Our UK-sourced leather ensures Loganair passengers can enjoy optimum comfort, with the added assurance that our sustainability credentials are second to none."

Each of Loganair's Embraer aircraft has a capacity of 49 seats and is operated by two pilots and up to two cabin crew. They have a cruise speed of 520mph/836kmh and fly three to four times daily across the airline's unique UK routes.